11/08/2017
Plant-Based Dairy Alternatives Will Be Trend to Watch in 2018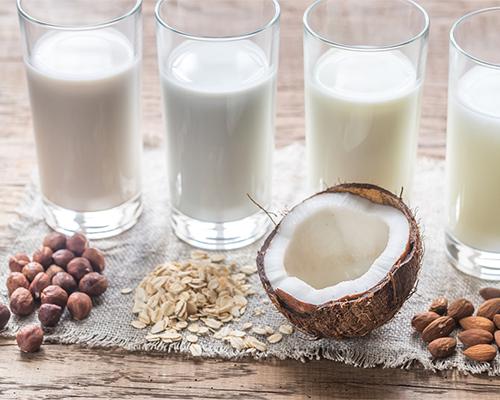 ROCKVILLE, Md. — Plant-based dairy alternatives will be the trend to watch in 2018, the latest report from market research firm Packaged Facts reveals.
According to Dairy and Dairy Alternative Beverage Trends in the U.S., 4th Edition, the market for dairy and dairy alternative beverages will reach a projected $28 billion by 2021. Spurring the segment's growth will be plant-based dairy alternatives, which are expected to reach 40 percent of the combined total of dairy and dairy alternative beverages. This figure is up from 25 percent in 2016 when dairy alternative beverages accounted for only $6 billion in retail sales.
The shift away from traditional dairy products such as cow's milk toward plant-based alternatives revolves around health concerns with a growing number of consumers coming to believe that plant-based foods are healthier than animal-based foods.
Further, there is a growing consumer base that is motivated by animal welfare concerns, leading them to choose plant-based beverages, as well as other plant-based foods over animal-based products, the market research firm stated.
"Vegetarians and vegans together account for less than 15 percent of all consumers and their numbers do not grow very rapidly, but a growing number of consumers identify themselves as flexitarian or lessitarian, meaning that they've cut back on their consumption of animal-based foods and beverages. It is this group that is most responsible for the significant and ongoing shift from dairy milk to plant-based milk," said David Sprinkle, research director for Packaged Facts.
In recent years, the plant-based dairy beverage alternatives category has expanded beyond nut- and legume-based milk alternatives like soy, rice, coconut and almond to include varieties made from cashews, hazelnuts, macadamias, peanuts, pecans and tiger nuts. Additionally, there are non-dairy milks being offered made from bananas, cassava, oats, and potatoes, among others.
Looking ahead to 2018, Packaged Facts expects several of these new and novel non-dairy milks to find a wider audience:
Barley milk: This plant-based milk alternative is made by converting unused barley plant grain left over from the beer brewing process. The idea wins over consumers concerned about food waste and sustainability, Packaged Facts stated.
Flax milk: This product is high in Omega-3s content. It is reported that it offers 1,200 milligrams per serving of this essential nutrient and flax products are free of all major allergens.
Hemp milk: Hemp is an excellent source of Omega-3 fatty acids as well as being a good source of plant-based protein, with all 10 essential amino acids.
Pea milk: Although the idea of pea milk sounds unappetizing to many, it does have its advantages over other dairy alternatives, according the market research firm. For example, the pea milk brand Ripple says that one serving has 8 grams of protein — the same as cows' milk — compared to about 1 gram of protein in coconut or almond milk. And, Ripple has half the sugar of cows' milk — something more consumers are sensitive to as they watch their waistlines — along with 50 percent more calcium, and vitamin D and iron.
Quinoa milk: This beverage formulation is reported to be high in protein, fiber, vitamins, and all nine of the essential amino acids. It also contains important minerals such as magnesium, iron, copper, manganese, zinc, and phosphorus and has a low glycemic index.
Dairy and Dairy Alternative Beverage Trends in the U.S., 4th Edition is available for download here.
Packaged Facts also recently established a free curated webpage on dairy and dairy alternatives, which can be found by clicking here.