Prize Giveaways Part of TETCO's Freedom Rewards Card Program
SAN ANTONIO -- David Nobles, a 48-year-old owner of a graphic design studio, is the latest winner in TETCO's Freedom Rewards Card prize giveaways. Nobles won a two-seat, three-wheeled T-Rex motorcycle after his name was automatically entered into a drawing just for being a member.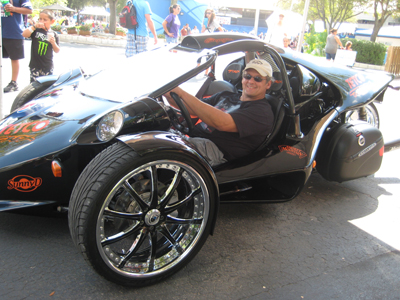 TETCO gives away grand prizes every quarter to customers who have a rewards card. While paying for their purchases at the counter, customers can ask for a Freedom Rewards Card and fill out a short form on-site or take their card with them and sign up online. It's free, and every time they purchase items in the company's convenience stores or buy gas at the pumps, they can swipe their cards to earn cash points and be eligible to win prizes.
"Our customers come to our stores for a unique experience," stated Joshua Petty, Freedom Rewards Card Program manager. "We have the cleanest and friendliest environment in the state. Our prize giveaways not only provide another form of this unique experience to our customers, but also our partners that help support the giveaways."
TETCO presented Nobles with the slick superbike, which can reach zero to 60 in four seconds and a top speed of 160 miles per hour, at SeaWorld San Antonio. "It took about a week and a half to sink in after TETCO called me. It's like winning the lottery," Nobles said. "This is totally awesome, and I have five kids who can't wait to take it for a ride."
Nobles said he plans to ride his Campagna Motors T-Rex through the Texas Hill Country and will take it with him when he drives to the Colorado mountains. The owner of Impulse Images & Animations said he signed up for a TETCO Freedom Rewards card about a year ago.
"I'm in there all the time, so I figured why not get a card. I like the savings. You can get free drinks and money back on your card," he added.
Sponsors of the T-Rex giveaway were Red Bull, Gatorade, Chex Mix, Kellogg's, Jack Links, Smokey Mountain Snuff, Sunny D, Snickers and Borden's.
In December, TETCO will give away two all-expenses paid trips to Costa Rica to Freedom Rewards Card members who visit its c-stores in San Antonio, Austin, Dallas and Fort Worth.