QT Chooses Kenworth Trucks for Fresh Food Delivery in Arizona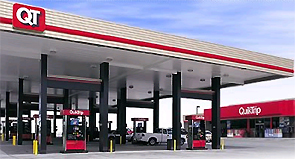 PHOENIX -- With its retail network in Arizona expanding, QuikTrip recently added to its operation three Class 7 Kenworth T370 trucks with PACCAR PX-6 engines, which join a fleet of eight additional Kenworth medium-duty trucks purchased in 2006, the supplier reported.

Tulsa, Okla.-based QuikTrip uses the Kenworth medium-duty trucks to deliver fresh food from its kitchen commissary in Tolleson, Ariz., to more than 75 of its convenience stores and gas stations in metropolitan Phoenix and Tucson. Fresh sandwiches, wraps, salads, fruit, pastries and other foods are prepared at company-owned kitchens and delivered to each store daily.

"What stands out about the Kenworth T370 is that it fits both our image as a company and our everyday needs as a distribution operation," stated Manny Rubio, who manages QuikTrip's food distribution operation in Arizona, one of the company's top growth markets. "It's a great-looking truck and we're proud to have our name on it, plus it provides the low operating costs and driver comfort we expect."

QuikTrip's trucks make 10 to 12 deliveries on routes ranging from 75 to 250 miles. According to Kenworth, the T370 truck's combination of a 220-horsepower PACCAR PX6 engine, automatic transmission and a load that starts out light and diminishes with each stop delivers fuel economy, and reduces the physical strain on drivers.

"We promote our drivers from within the distribution operation. It's more effective to train someone from our QuikTrip family to operate a truck than it is to train a truck driver to meet our high standards," Rubio said in a statement. New drivers adapt so well to the Kenworth T370 that they can earn a CDL and be productive in a matter of weeks instead of months. "That's huge for us," Rubio said. "They feel comfortable in the truck quickly, especially with the automatic transmission. We can spend more time preparing drivers for other aspects of the job."

QuikTrip manages its own maintenance schedule and its truck dealer, Inland Kenworth in Phoenix, handles nearly all preventive maintenance and repairs. The arrangement helps the retailer improve utilization and focus on distributing fresh food. QuikTrip also has a Kenworth T660 day cab for weekly inventory delivery to its Arizona stores.

"Other dealers have approached us about other makes of truck, but there's a lot of value in being consistent," Rubio stated. "Our Kenworth T370s help us control our operating costs and keep our drivers happy every day. As a Class 7 truck, it also gives us the versatility we'll need as more stores and more products come on board. It's a great fit now and in the future."