Quick Visits to Whole Foods Get Boost From Addition of Amazon Lockers
Get great content like this right in your inbox.
Subscribe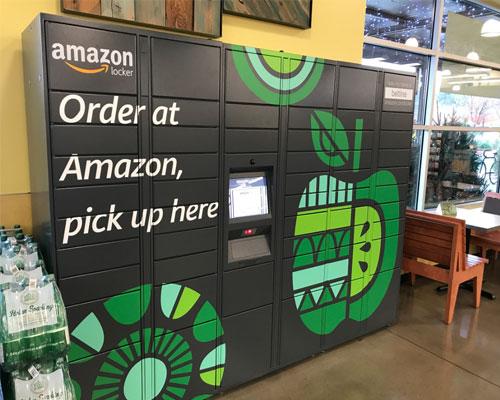 AUSTIN, Texas — Whole Foods Market stores may have Amazon Lockers to thank for the uplift in brief store visits.
According to InMarket, while average monthly foot traffic in Whole Foods Market stores has seen a bump since news of their acquisition of Amazon broke last June, new research has found that the addition of Amazon Lockers has upped brief visits to the natural retailer's stores even more.
Micro-visits — defined as three- to five-minute trips to a store — have grown 9 percent at Whole Foods stores with Amazon Lockers compared with the same period in 2017. And, since Amazon took control of Whole Foods in late August 2017, micro-visits to stores with Amazon Lockers have risen 11 percent vs. a 7-percent increase at stores without Lockers, InMarket found.
These numbers are significant because the Austin, Texas-based grocer's average stores typically attract fewer micro-visits than other grocers, with only 6.5 percent of trips to those locations lasting between three to five minutes so far in 2018, the digital marketing agency found.
"Incremental visits drive additional revenue for retailers, but micro-visits are unique in that consumers could simply be visiting for in-store pickup," InMarket noted. "Much like a convenience store in dealing with gas customers, it's up to Whole Foods to capitalize on the short visitation via impulse buys and low-consideration products."
"Lockers have been installed at 7-Eleven for roughly three years, which could set an interesting example for the retailer. And if seamless checkout — currently being tested at Amazon Go stores — goes mainstream, this could become a very interesting case example of grocery evolution and convergence.