RaceTrac Adds Cinnabon to Everyday Menu Offerings
Get great content like this right in your inbox.
Subscribe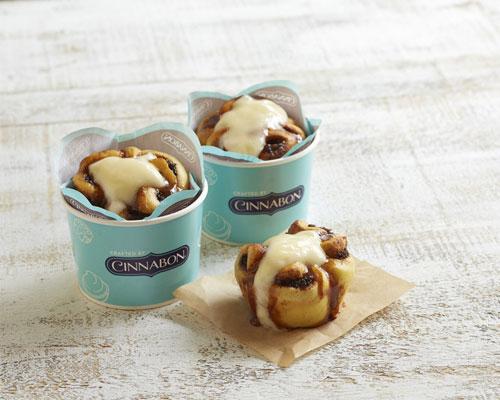 ATLANTA — RaceTrac Petroleum is adding the Crafted by Cinnabon as an everyday menu offering across its Texas and Florida convenience stores.
The expansion comes as the two Atlanta-based companies celebrate their one-year partnership.
The Crafted by Cinnabon lineup now offered at RaceTrac includes:
Frosting Filled Pumpkin Muffin Top: The pumpkin-flavored muffin top is filled with cream cheese frosting and topped with cinnamon crumb streusel and icing drizzle. It can be purchased exclusively at Florida and Texas locations for $1.99.
Gooey Swirls: The first warm indulgence added to RaceTrac's menu will be available starting Oct. 15 at participating locations across Florida, Georgia, Louisiana and Texas. Gooey Swirls are warm cinnamon swirl dough topped with cream cheese frosting and smothered in ooey gooey cinnamon schmear. They are available for $2.49.
Frosting Filled Long John Doughnut: This indulgent cinnamon donut is filled with cream cheese frosting and topped with cinnamon frosting glaze and icing drizzle. It is featured at locations in Texas and Florida for $1.99.
"Bringing Cinnabon treats to RaceTrac's bakery case continues to exceed our expectations, and we are excited to now offer Gooey Swirls, a warm Cinnabon product," said Steve Turner, executive director of foodservice for RaceTrac. "Adding the well-known Cinnabon brand to our already-premium bakery menu provides our guests with extra indulgent treats from which to choose."

Participating RaceTrac locations will continue to offer the Frosting Filled Long John Doughnut and Gooey Swirls as year-round offerings and will rotate in new limited-time-offer products as the seasons change. These products will be exclusive to RaceTrac, according to Cinnabon.
"We are thrilled to be continuing our partnership with RaceTrac to offer our premium, fresh baked treats to more guests in a variety of new and exciting formats," said Julie Thomas, director of foodservice sales, convenience & petroleum and entertainment, global channels for FOCUS Brands, parent company of Cinnabon. "We attribute our tremendous success this past year to our mutual dedication to providing the highest quality food offerings to our guests. We can't wait to show everyone what sweet things we have planned for 2018!"
Crafted by Cinnabon launched in November 2016 and is the brand's first line of fresh bakery treats designed for single-serve or in multi-serve channels such as grocery, convenience stores, university campuses and other foodservice outlets. 
RaceTrac operates more than 450 c-stores in Georgia, Florida, Louisiana and Texas.