Ricker's Debuts New 'Open & Modern' Flagship Store
Get great content like this right in your inbox.
Subscribe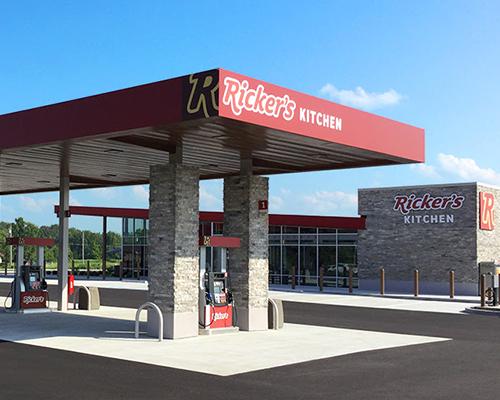 NEW PALESTINE, Ind. — Ricker's opened its new flagship convenience store in New Palestine on Aug. 28.
Located off of U.S. Route 52, the store features a new visual style and layout for the chain.
"We've been developing this store design for three years," said Ricker's President and CEO Quinn Ricker. "It's an open and modern floorplan that features floor to ceiling glass windows and a sit-down dining area. This is just the first of many Ricker's locations that will follow this design."
The new flagship store also has significant food and beverage offerings. Ricker's Kitchen, the company's brand of made-to-order prepared food, has menu options that include breakfast products such as biscuits and gravy, and breakfast tacos, as well as lunch and dinner options like cheeseburgers, pizza and tacos.
"We are proud to offer such a fresh, high-quality and affordable product that is also unique to the Ricker's brand," Ricker said. "We prepare all food items fresh and in-store. Kiosks are in place to allow each order to be customized to the individual's liking."
The store also offers fresh "bean to cup" gourmet coffee, cappuccino, iced coffee and frappés. Multiple flavored syrups and creamers are available for drink customization. All machines use reverse-osmosis water filtration.
Ricker's also counts gasoline as a high priority at the new store. It provides Lucas Oil additives in its premium and diesel fuels to increase power and fuel mileage and lower exhaust emissions; tax-exempt diesel islands where trucks can refuel; and ethanol-free premium with Lucas Oil fuel treatment.
Anderson, Ind.-based Ricker's operates more than 56 c-stores in Indiana.