RJR Set to Take Camel Snus Mint Nationwide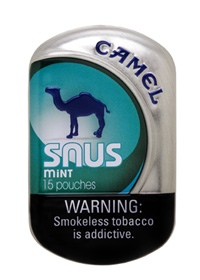 WINSTON-SALEM, N.C. -- R.J. Reynolds is bringing its latest product in the Camel Snus line up national after hitting the market in only 27 states this spring. The nationwide launch will begin Aug. 28.
"The reactions from adult tobacco consumers trying Camel Snus Mint in the initial market states have been overwhelmingly positive," explained company spokesman Richard Smith.
Camel Snus Mint offers adult tobacco consumers a traditional mint style with a proprietary blend of various mint flavors, according the company. The addition of this style expands Camel Snus portfolio with mint being a long-established category in the smokeless category.
"As trends in tobacco use change, Camel is transforming by offering adult smokers options, like Camel Snus Mint, to consider switching," Smith added.