Robotic Kitchen at Boston Fast-Casual Restaurant Cooks Up Meals in Three Minutes or Less
Get great content like this right in your inbox.
Subscribe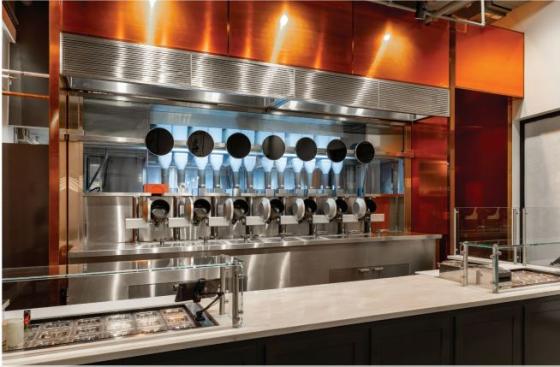 BOSTON — Instead of relying on traditional labor, the new fast casual restaurant Spyce, which opened May 3, uses a robotic kitchen to cook meals to order in three minutes or less.
Founded by four Massachusetts Institute of Technology (MIT) graduates, the restaurant has a vision to reinvent fast casual dining.
The robotic kitchen has seven cooking woks and can serve up to 210 meals per hour. Spyce's menu includes rice bowls, curries, salads, stir fry and more starting at $7.50 and quickly made to order, according to a Hospitality Technology report.
Spyce is not fully automated. Although customers order and pay at kiosks, the restaurant has human employees as well.
"If a customer chooses to pay with cash, one of our guides collects their cash," said Grace Uvezian, marketing specialist.
Award-winning chef Daniel Boulud is the culinary director of Spyce and Sam Benson is executive chef.
"Being that we have been open for less than a week, we're learning as we go and still figuring out the correct number of employees on site for a typical lunch," Uvezian said.
Spyce founders Michael Farid, Kale Rogers, Luke Schlueter and Brady Knight began planning as MIT students who were tired of spending money on take-out lunches and dinners, but realized many people were being priced out of eating healthy, quality foods.
After creating the technology needed for the robotic kitchen, the founders contacted Boulud, who later invested in the company and recommended Benson as executive chef. Benson developed a menu that combines classic French techniques with modern technology.
Spyce is located at 241 Washington Street in Boston's Downtown Crossing.
Convenience Store News and Hospitality Technology are both properties of EnsembleIQ.