Royal Farms Makes Its New Jersey Debut
Get great content like this right in your inbox.
Subscribe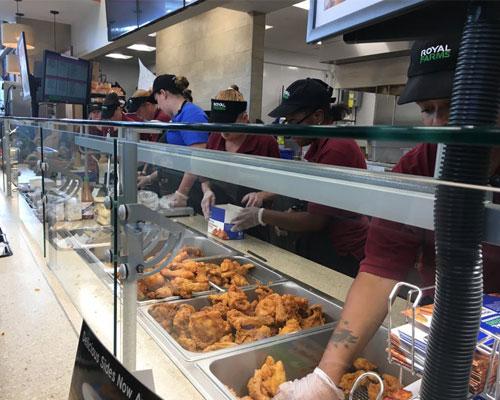 MAGNOLIA, N.J. — The Garden State picked up a new convenience player, with Royal Farms debuting its first New Jersey location on Nov. 3.
Situated in Magnolia, the new Royal Farms is located at the corner of the White Horse Pike and Evesham Avenue, reported NJ.com. Open 24 hours a day, the c-store is focused on its freshly-prepared foods, like fresh, never frozen chicken. The item can be prepared and breaded on site in a variety of ways, including off the bone, on sandwiches and in salads.
In addition to steadfast items like soda, milk and water, the 5,400-square-foot store and gas station features its own line of snack items, such as Chesapeake-flavored potato chips, nuts and fresh-baked items. Indoor and outdoor seating, tobacco, money orders and lottery are also available.
"We're a fast and friendly environment. We want to give people the gift of time. Convenience stores are about convenience," stated Dave Winterling, head of loss prevention for Royal Farms.
According to NJ.com, buzz surrounding the store's opening continued well into the lunch rush the following day, where cars frequently had to circle the lot to find parking with all of more than 50 parking spaces filled. Motorists started parking on entrance driveways, and wait time for chicken orders timed out at close to 30 minutes.
Royal Farms is set to open additional New Jersey stores in Bellmawr, Gloucester City, East Greenwich, Mount Lauren and Evesham over the next 18 months. The convenience operator began moving its banner north with the opening of a Ridley Township, Pa., store in early 2015, followed by a second in Upper Chichester, Pa., CSNews Online previously reported.
Based in Baltimore, Royal Farms operates nearly 185 convenience stores in Delaware, Maryland, Pennsylvania, Virginia and New Jersey.