Rutter's Enhances Wine Assortment With Local Winery Selections
Get great content like this right in your inbox.
Subscribe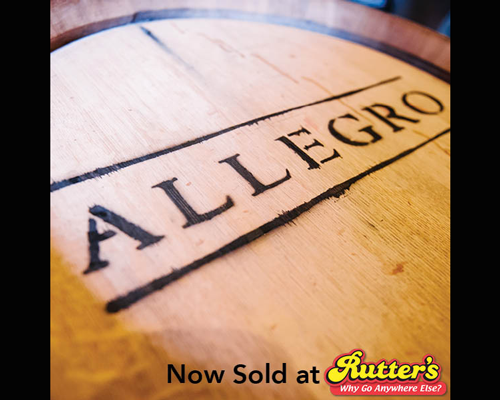 YORK, Pa. — Rutter's is partnering with Brogue, Pa.-based Allegro Winery to offer a variety of its wines at several Rutter's convenience store locations.
As of last week, Allegro wines can be found at six Rutter's locations in the Allegro Winery area, including Cape Horn, North Hills and Richland Avenue.
Allegro Winery is the first of many wineries that will offer their products at select Rutter's stores. 
"Allegro is thrilled to join with Rutter's to bring local [Pennsylvania] wines to its customers," said Carl Helrich, winemaker/owner of Allegro Winery. "The convenience of being able to pick up a bottle of local wine when folks are getting fuel or a gallon of milk is a nice option to have."
Rutter's will also carry Harmony and Punk Allegro Wines, with plans to partner with more local wineries over the next couple of months.
Additionally, Rutter's will offer local wines at select wine-pairing events at various Rutter's locations. 
"To continue to expand our fresh and local category, we thought it would be perfect to begin offering local wineries' wines at select Rutter's locations," said Robert Perkins, vice president, marketing, for the retailer. "We love to provide our customers with as much convenience as we can, and what better way than to offer some of their favorite local wines at local Rutter's locations."
A full list of local wineries and the Rutter's locations where they are offered is available on Rutter's website.
 
York-based Rutter's is a family-owned and -operated convenience store chain with roots dating back to 1747. The retailer operates more than 60 stores in Pennsylvania and West Virginia.