Sheetz Locations Get Charged Up With Tesla Superchargers
Get great content like this right in your inbox.
Subscribe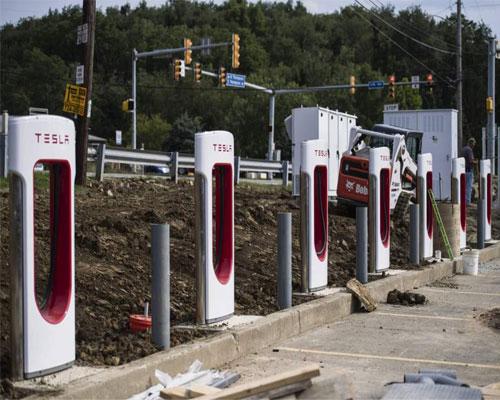 ALTOONA, Pa. — Sheetz Inc. is revving up its offerings with the addition of eight Tesla Superchargers to its North Huntingdon, Pa., location.
According to Tesla's website, Superchargers enable its Model S and Model X cars to charge within minutes.
In addition to the eight Superchargers being installed at the North Huntingdon Sheetz — located at Route 30 and Thompson Lane — Tesla has opened Superchargers at Sheetz locations in Breezewood, Falls Creek and Cambridge, Ohio, according to Kady Cooper, spokeswoman for Tesla, reported Trib Live.
Tesla has referred requests for information about Sheetz Superchargers to its website, which has a map showing open and future charging locations. Sheetz spokesman Nick Ruffner has also referred questions to Tesla's website.
Discussions between Sheetz and Tesla Motors to add electric vehicle (EV) charging stations to the Altoona-based convenience store retailer's sites began in June 2016. During this time, Michael Lorenz, Sheet's executive vice president of petroleum supply, did not reveal how many Sheetz locations could be outfitted with Tesla chargers, CSNews Online previously reported.
The c-store retailer already has other locations in Pennsylvania and North Carolina where EV owners can charge their non-Tesla vehicles.
Sheetz joins Wendy's fast food restaurant in Somerset and Cranberry Township Residence Inn in becoming a Western Pennsylvania business offering Superchargers. 
Tesla stated that it is actively recruiting corporate partners as it seeks to double its charging network across the country, the news outlet reported.
"We started 2017 with over 5,000 Superchargers globally and by the end of this year, Tesla will double that number to total more than 10,000 Superchargers and 15,000 Destination Charging connectors around the world. In North America, we'll increase the number of Superchargers by 150 percent, and in California alone, we'll add more than 1,000 Superchargers," Tesla stated.
Sheetz operates 544 c-tsores throughout Pennsylvania, West Virginia, Virginia, Maryland, Ohio and North Carolina.