10/12/2018
Should You Be Offering Alternative Fuels?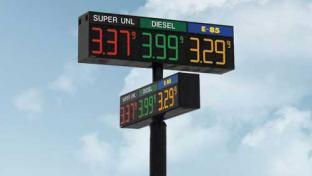 LAS VEGAS — Deciding if and when to make a change in your fuels offering is a big decision, one with many considerations.
During "The Road Less Traveled: When to Try New Fuels" education session at the 2018 NACS Show, Fuels Institute Executive Director John Eichberger led a discussion about launching alternative fuels at the pump. The goals for the presentation were three-fold:
Decide if the time is right for you to test new fuel offerings;

Mitigate challenges when testing new fuels based on peer experience; and

Devise a plan to experiment with and expand your fuel offering.
Eichberger was accompanied by Joel Hirschboeck, vice president of fuel at Giant Eagle Inc./GetGo; Michael Lorenz, executive vice president of petroleum supply at Sheetz Inc.; and Matt Spackman, vice president of fuels at Kum and Go LC.
Hirschboeck, who previously served as the general manager of fuel marketing and procurement at Kwik Trip Inc., has experience developing and implementing regional renewable blending facilities and expanding the adoption of biodiesel. When it comes to marketing fuels like E15, Hirschboeck sees the value in calling it Unleaded 88, as it shows a standardization of fuel.
"Consumers want to pull in the lot, spend as little time as possible, fill up with fuel that's good for their car, get coffee and doughnuts, and be on their way. If they don't know what to do, they'll just go back to the fuel they've always bought. Unleaded 88 branding makes it familiar; requires less thought," said Hirschboeck. "It's challenging to educate a consumer, [but] they understand price. They understand the octane number. If it's bigger, it's a better fuel."
At Sheetz, E15/Unleaded 88 has been rolled out to 41 percent of stores, while 43 percent are selling E85. Five percent (30) of the retailer's stores currently have electric vehicle (EV) chargers.
All of those percentages could very well tick up dramatically over the next few years because of disruption. The disruption, according to Sheetz's Lorenz, is due to the fact that vehicles are becoming more efficient. Because of regulations, automakers are going for electrification, and biofuels are becoming more attractive.
Lorenz believes offering E15 can be a positive move for retailers for a few reasons: its value proposition; it can serve as a differentiator for a brand; it provides an opportunity for growth; and it will more than likely grow in popularity as time goes on.
As for providing electric vehicle charging stations, retailers can keep costs low by partnering with companies in the industry, noted Lorenz. Benefits include becoming a destination for EV car owners; the increased amount of time these drivers will spend on the lot throughout a charge; and an improved brand image.
Kum and Go's Spackman also believes in E15's future, as it's a higher octane, better performing and cleaner burning fuel at a lower price. While the alternative fuel has potential, Spackman did acknowledge that there are some challenges, including seasonal regulations and educating the customer about the aforementioned advantages.
At Kum and Go, 135 stores currently sell E15 and the company is exploring the EV charging space. It is currently partnering with different providers to see what EV charging model will work best for its specific needs.
While testing out various EV charging station models, Spackman said he learned the following:
Timing is everything; 
There's the ability to secure third-party funding;
Price differentials are challenging; and
It's important to know the infrastructure costs.
Spackman hopes to find a partnership with a third party that can integrate the charging data into Kum and Go's loyalty program, so the retailer can learn more about who's coming into the store.
At the end of the session, the panelists left attendees with the following advice: Do your homework and know how your fuel offer will satisfy your customers; take advantage of opportunities when available; don't rush, but pay attention to the trends.
The 2018 NACS Show took place Oct. 7-10 at the Las Vegas Convention Center.