10/05/2017
Six Ways Today's C-stores Are Redefining 'Convenience'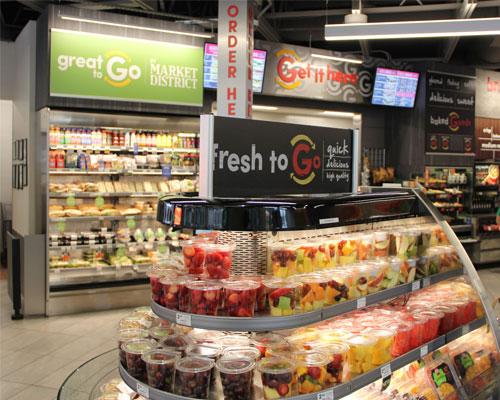 ALEXANDRIA, Va. — Even though convenience stores sell 80 percent of the gas and 40 percent of all packaged drinks purchased in the country, today's c-stores have surpassed their fuel and beverage offers.
"Convenience stores are commonly called 'c-stores,' but c-store means so much more than convenience. The 'C' also represents the customers we serve, the communities we support and the choices we offer — whether healthy options or more indulgent treats," commented NACS, the Association for Convenience & Fuel Retailing, president & CEO Henry Armour.
Here are six revelations about how today's c-stores are redefining convenience, according to NACS:
Serving Meals
Foodservice sales in U.S. c-stores — which includes prepared food and beverages — is 22 percent of all in-store sales, or $52 billion. Freshly prepared food and packaged sandwiches are $35 billion of that total.
Many stores offer hot meals prepared to order, including sandwiches, wraps, pizza and even gourmet fare. Grab-and-go snacks and meals are also available, such as yogurt, fruit or veggie cups, as well as other portable snacks.
"On-the-go consumers are turning the car cup holder into a dinner plate by filling it with food packaged to fit into this space," said Jeff Lenard, vice president of strategic industry initiatives for NACS.
Healthy Options
C-stores have long been associated with providing indulgent treats; however, today one in five consumers (20 percent) say they've noticed that c-stores offer more healthy options like salads and fruits.
To keep up with these changes, NACS became the first retail trade association to team up with the Partnership for a Healthier America (PHA) to jointly launch a new web-based nutrition calculator to help members develop better-for-you store sets. It has also created marketing materials featuring PHA's Drink Up initiative to encourage consumers to take in more water.
Caring About the Earth
With 70 percent of Americans saying that they empty the trash from their cars into the c-store trash can where they fill up, operators are looking to play a larger role in litter management. NACS announced a major partnership with Keep America Beautiful earlier this month to help retailers reduce and ultimately eliminate litter in and near their stores.
Partnering With Communities
NACS member companies collectively contribute nearly $1 billion a year to charities, and 64 percent support five or more nonprofits in their communities, according to the association. The NACS reFresh program helps stores create partnerships with like-minded community- and nutrition-focused groups.
Earlier this year, NACS announced a major partnership with The American Red Cross to facilitate member contributions to disaster relief efforts, especially related to this year's hurricanes.
Saving Consumers Time
Convenience stores provide speed of service to time-starved consumers, whether they're fueling up, purchasing food or accessing cash. A NACS speed metrics study found that it takes customers, on average, 3 minutes and 33 seconds from the time they leave their cars until the time they get back in their cars with a purchase.
"That time spent in stores is about the length of the average song on the radio — but stores are innovating to make it even faster. After all, every second we save each of our 160 million daily U.S. customers alone translates into a savings of 5 years per day," explained Lenard.
Selling Cool Stuff
C-stores are the ideal retailer to showcase and sell new food and drink items because 66 percent of all items purchased in-store are consumer immediately, according to NACS.
Some of the latest trends the association has found include:
Alternative snacks continue to gain popularity as consumers — especially millennials — seek out protein- and energy-rich products.
New flavor combinations merge traditional flavors, like sweet and spicy, sweet and sour, or sweet and salty.
"Functional beverages" quench thirst while providing protein, vitamins or other nutrients.
New foodservice programs and equipment help provide high-end food and beverage options in stores.
 
The U.S. convenience store industry, with more than 154,000 stores nationwide selling fuel, food and merchandise, serves 160 million customers daily — half of the U.S. population — and has sales that are 10.8 percent of total U.S. retail and foodservice sales.
Based in Alexandria, NACS has 2,100 retailer and 1,750 supplier members from more than 50 countries.