Some Casey's Get 'Open 24 Hours' Signs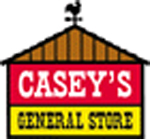 BLOOMNGTON, Ill. -- March 1 will mark a new era for some Casey's General Stores locations in Illinois. More than two dozen, with several in Central Illinois, will be getting upgrades and longer hours.
According to Pantagraph.com, three stores in Bloomington, and one each in Pontiac, Dwight, Streator, Tremont and Heyworth are among the Casey's locations that will be open 24 hours. In addition, several stores are slated for remodeling and upgrades, including the location at 100 Watters Dr. in Dwight.
"We are very happy about the news because it means adding employees and serving our customers better," Dwight manager Terra Bockelman told the news outlet. "Anytime you can add jobs in this economy, it's very encouraging."
Most of the more than 1,500 convenience stores in Casey's portfolio are open from 5 a.m. to 11 a.m. daily. By expanding the hours at some locations, the stores affected will add an average of eight employees per store. Stores for expanded operations were selected, in part, because of performance, according to Bockelman.
Casey's chief financial officer Bill Walljasper said studies have shown that stores changing to 24 hours have late-night traffic patterns that will support the move, as reported by Pantagraph.com. "Most of them are near factories or have areas where there would be a significant number of customers during the overnight hours," he said. "We are very encouraged with the progress we have made in these areas and our managers and staff are excited about the new changes as well. We're also glad we can provide some additional jobs in these areas, too."