09/24/2018
Sparkling Water's Popularity Shows No Signs of Fizzing Out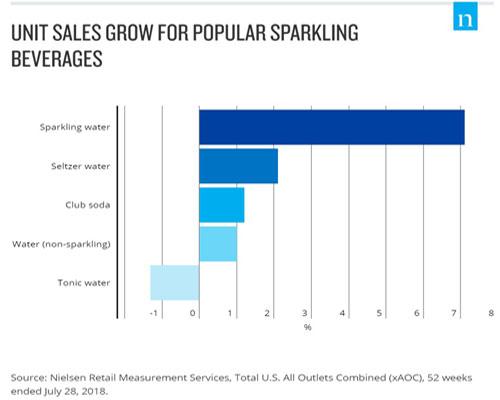 NEW YORK — With high temperatures, summer is a popular season for sparkling water, and this summer proved to be no exception.
For the week ended Aug. 18, sparkling water sales spiked $49 million — a figure that's up 22 percent from the same time last year, according to Nielsen.
Beyond the heat of summer, Americans have demonstrated heightened demand for such beverages this year. For the 12 months ended July 28, sales of sparkling water across all Nielsen tracked channels reached $2.2 billion. Within the past four years, this category grew 54 percent. Additionally, opportunity for this fizzy drink exists globally, with Canadians spending 21 percent more per household on sparkling water vs. the U.S.
When it comes to what kind of sparkling water Americans are drinking, popular offerings like club soda and seltzer have seen unit growth with the exception of tonic water over the last year.
Above and beyond the effects of rising aluminum prices, growth in canned sparkling water is driving the category's profits, according to Nielsen. While bottled sparkling water still commands the majority of dollar sales at 64 percent, canned sparkling water has performed exceptionally well in 2018 and is up 43 percent from last year to reach sales of more than $803 million. For the week ended Aug. 18, canned sparkling water sales reached more than $21 million, which is up 39 percent vs. the same week last year, whereas bottled sparkling water is up 11 percent during the same period. 
The bubbly trend hasn't stopped at water. There has been resurgence in sparkling beverages in other beverage categories as well — most notably seen in the ready-to-drink tea category, with the rising popularity of kombucha (a 49-percent dollar growth over the past 52 weeks) and even into the beverage alcohol market.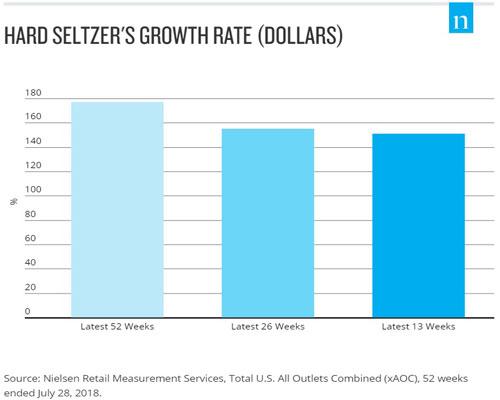 Stretching across the store, hard seltzers is a category on the rise in the alcohol market. Within the last 12 months ended July 14, sales of hard seltzers are up 177 percent. In fact, hard seltzers now represent about 10 percent of all flavored malt beverage (FMB) sales. 
However, when it comes to this new, bubbly libation, not all markets are the same. According to Nielsen data for off premise, U.S. regions with strong seasonal periods — such as Washington, D.C. and Chicago — have stronger developed hard seltzer sales, controlling more than 3 percent of beer/FMB/cider dollars compared to a national share of about 2 percent. Regions with warmer climates have opportunities to continue development in hard seltzer, with Nielsen data showing that share is below the national average in places like Los Angeles (1.2 percent dollar share) and Texas (0.6 percent dollar share).
Renewed interest in sparkling waters is another reflection of consumers' ongoing shift toward opting to make healthier choices and taps into several health and wellness trends popular with Americans today, such as the appeal of a low-carbohydrate and low-calorie option that is seen as a low-guilt beverage offer. Beyond the potential health benefits consumers see, these drinks can be refreshing, provide interesting flavors and, within the beverage alcohol market, its versatility could appeal thanks to its ability to be part of a cocktail mix, Nielsen concluded.