Speedway Becomes Official Fuel & Convenience Store of IndyCar
Get great content like this right in your inbox.
Subscribe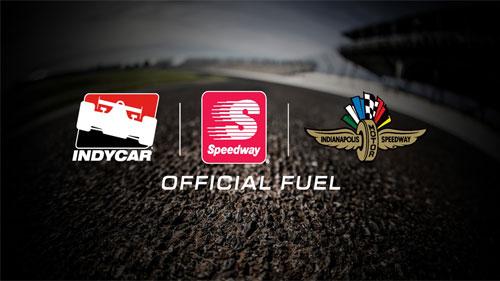 ENON, Ohio — Speedway LLC signed a multiyear agreement with Hulman & Co., making the convenience store chain the Official Fuel and Official Convenience Store of INDYCAR, the IndyCar Series, Indianapolis Motor Speedway and the Indianapolis 500 beginning in 2019.  
As the Official Fuel for INDYCAR, Speedway will provide the fuel powering every car at every race in the IndyCar Series. The series' 2019 schedule features 17 races, beginning with the Firestone Grand Prix of St. Petersburg (Florida) on March 10 and concluding with the INDYCAR Grand Prix of Monterey (California) on Sept. 22. The schedule is anchored by the 103rd Running of the Indianapolis 500 at Indianapolis Motor Speedway on May 26. 
"We are excited about this partnership with INDYCAR and Indianapolis Motor Speedway," said Tony Kenney, president of Speedway. "The Indianapolis 500 itself is one of the premier events in the world of motorsports, and Speedway has a strong brand presence in the INDYCAR race markets, so our relationship will be very complementary. The IndyCar Series is a great way to showcase Speedway's brand and quality fuel offerings, including the fuel that will power the race cars at each event."
The agreement also calls for Speedway signage to be placed at Indianapolis Motor Speedway, and Speedway media assets within NBC Sports' exclusive coverage of the IndyCar Series starting in 2019. Speedway fuel also will power Hulman & Co.'s fleet of trucks and IMS equipment. 
"Speedway has a large national footprint along with the desire to establish a partnership with the IndyCar Series and its many events reaching millions of consumers," said Mark Miles, CEO of Hulman & Co., which owns INDYCAR and Indianapolis Motor Speedway. "Speedway also has a broad reach within the region, ensuring a shared interest in leveraging the Indianapolis 500 as a central element of its retail promotion during the month of May. We believe this will be a beneficial relationship for Speedway, INDYCAR and all of our race promoters."
Speedway is the nation's second largest company-owned and -operated convenience store chain with almost 4,000 retail locations across the U.S. Headquartered in Enon, Speedway is a subsidiary of Marathon Petroleum Corp. and has locations in 35 states. The IndyCar Series will conduct 11 races in those states in 2019.