Speedway Sharpens Identity with Name Change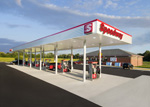 ENON, Ohio -- The fourth largest company-owned and -operated convenience store chain in the country has changed its official corporate name to Speedway LLC, dropping SuperAmerica.
The move comes less than three months after the company sold 166 SuperAmerica locations, primarily in Minnesota. The new name now reflects the current brand make-up of the company's approximately 1,350 convenience store/gas station locations. The Speedway name is largely recognized by residents in Ohio, Michigan, Indiana, Illinois, Wisconsin, West Virginia and Kentucky.
"The name change solidifies our identity within the convenience store industry and leverages the inherent strength of our Speedway brand," explained Tony Kenney, president of Speedway.
Speedway is a wholly owned subsidiary of Marathon Oil Corp. Speedway has been the highest ranked retail gasoline brand in the United States in terms of overall brand equity in the 2009 and 2010 the EquiTrend Brand Study conducted by Harris Interactive.