Spinx Finds a Sweet Spot for Growth in Charleston
Get great content like this right in your inbox.
Subscribe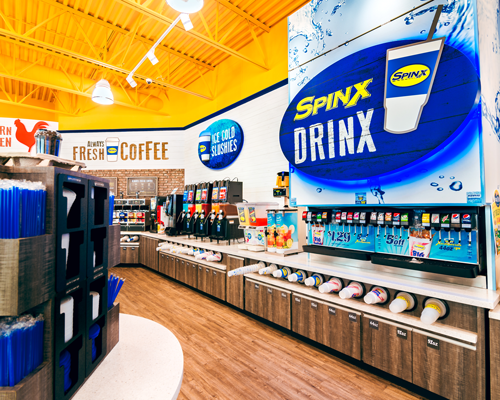 CHARLESTON, S.C. — Situated on nearly four acres, The Spinx Co. recently debuted its largest convenience store to date in Moncks Corner, S.C., a Berkeley County town that is included in the Charleston-North Charleston-Summerville metropolitan area.
The 6,188-square-foot store — the company's 11th location in the Charleston area — is situated 20 miles from the downtown Charleston peninsula, with a fresh water lake on one side and the salty Atlantic Ocean on the other.
Spinx decided Charleston was fitting for its most sizable location because South Carolina continues to grow demographically with a diverse population, coupled with its robust economy and workforce.
"Market research showed a dramatic change from 2006 to 2011, so it lit a fire for us to grow in Charleston," Spinx founder and Chairman Stewart Spinks told Convenience Store News. "Plus, I grew up in Charleston, so I'm prejudice to going back home where I started."
The Moncks Corner store, which opened Dec. 14, 2017, builds on Spinx's Fresh On The Go foodservice offer. Featured on the menu are the retailer's legendary Southern-fried chicken tenders, accompanied by sides like mashed potatoes and gravy, macaroni and cheese, potato wedges and fried okra. There's also chicken biscuits and made-to-order sandwiches, wraps, breakfast bowls, and fruit and yogurt smoothies.
This location also introduces Spinx's first Ride 'N' Shine express tunnel car wash, which opened Feb. 15 of this year. Each Ride 'N' Shine wash uses environmentally conscious water reclamation systems and eco-friendly chemicals, as well as advanced technology that gives customers the best wash for their budget, according to the retailer.
The system utilizes a 3-D scan of each vehicle to precisely target soap and high-pressure water based on the size and shape for the most accurate clean. The new tunnel wash is also equipped with specially engineered blowers to achieve a drier vehicle while conserving energy.
"Successful companies, whether they be a McDonald's or others in the c-store industry, that have a proven concept continue to build on [that concept]. This will be our fifth- or sixth-generation store, so this concept has got to take us a long way down the road," Spinks explained.
The c-store chain plans to focus on growth in the Charleston area for the next two years at least. Headquartered in Greenville, S.C., Spinx operates more than 80 convenience stores in South Carolina and is the largest privately held company in the state.
Originally, the retailer planned to build 15 stores in Charleston, but has since doubled that number to 30 since it has found "so much success already," Spinks shared.
Check out the May 2018 issue of Convenience Store News for more on Spinx's largest store.