Starbucks to Include Drive-Thru at 80% of New Locations
Get great content like this right in your inbox.
Subscribe
SEATTLE — Starbucks, the world's largest coffee shop chain, will embrace the drive-thru lane at 80 percent of all its new U.S. cafes.
While that may contradict the sit-down coffee culture Starbucks helped pioneer, in-the-car service can be a big moneymaker when done right, according to a new Bloomberg report.
Starbucks will have to speed things up if it wants to compete with the likes of Dunkin' Brands Group Inc. and McDonald's Corp., as the Seattle-based company looks to jump start sales after revenue disappointed analysts in eight of the past nine quarters, the news outlet explained.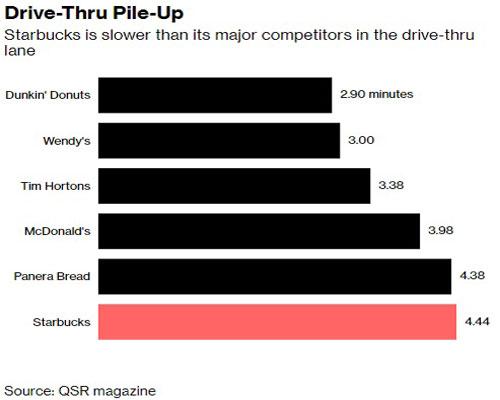 "Convenience is really the key. People are looking less for the 'let me go in there and sit down for a while' and more of 'let me go in there and get my coffee and go where I need to be,'" said Jason Moser, a Motley Fool analyst.
Starbucks has touted itself for cultivating a "third place," a location between home and work for customers. However, this kind of culture has been on the decline as free internet connects have become more ubiquitous and co-working spaces have popped up. The company's image as a hangout for the masses took another hit earlier last month with the arrest of two black men at a Philadelphia location.
Starbucks Chief Financial Officer Scott Maw made the case for window demand on a recent conference call, in which he told the tale of two locations in Fort Collins, Colo. One is located in a shopping center, while the other is a nearby drive-thru. He said sales were two-thirds higher at the café serving customers while in their cars.
At stores with car service, 70 percent of sales come from the windows, according to estimates by Tom Cook, principal at restaurant consultant King-Casey who has previously worked advising Starbucks. Just a small percent of the chain's customers actually linger inside, he said.
"Most of the people that were going in there were going in and out," Cook added. "Things have changed — everybody is more into this ease and convenience and speed."
Edward Jones analyst Brian Yarbrough added: "Drive-thrus are a key to driving traffic — the issue is you have to be able to get people through. At some point, if they see there's a huge line at the drive-thru, they'll go down the street."
Starbucks began adding drive-thru stores years ago, but is accelerating the push now as sales growth slows at its 14,000 U.S. locations. To combat the slowdown, the company has made efforts to revamp car-bound customers' experience with the installation of 2,800 video screens across the country in 2015 in which customers could see baristas' faces.