Starbucks Opens First Tea Bar
NEW YORK – Starbucks Corp. opened its first Teavana Fine Teas + Tea Bar in New York City's Upper East Side today. The location is designed to elevate the premium tea experience by offering a carefully selected assortment of handcrafted tea beverages, premium loose-leaf teas, tea-inspired food offerings and tea merchandise.
The opening of the new tea bar comes nearly one year after Starbucks announced its acquisition of Teavana for $620 million, as CSNews Online reported. Over the course of the next year, the company plans to expand the tea bar experience to additional stores, add a curated loose-leaf tea selection to Starbucks stores and continue innovation in all tea formats.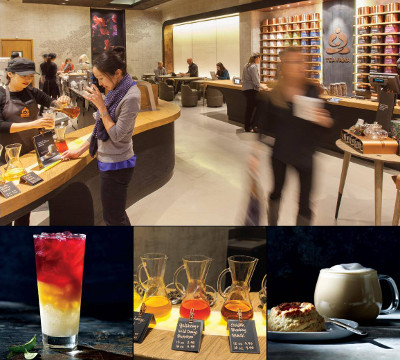 "Tea has been a part of Starbucks' heritage since 1971 when we were founded as Starbucks Coffee, Tea and Spices, and this new store concept elevates the tea experience in the same way we've done for coffee," said Howard Schultz, Starbucks' chairman, president and CEO. "As the second most-consumed global beverage behind water, tea presents a $90-billion global market opportunity and we are excited to celebrate the first retail example of how our two companies are coming together."
Since the acquisition, Starbucks has leveraged its assets and capabilities into the Teavana customer experience, including social media, digital media, loyalty card and mobile, the company said. The first Teavana Fine Teas + Tea Bar is intended to combine Starbucks' strengths in store design and customer experience with Teavana's expertise in tea sourcing and blending.
"By selecting only the finest premium loose-leaf teas and botanicals to be sold in Teavana mall stores, Teavana has built a strong reputation among tea enthusiasts and introduced casual tea drinkers to new experiences in tea," said Cliff Burrows, Starbucks' group president, Americas, Europe, Middle East and Africa, for Teavana. "We are excited to work together to help create new and innovative ways to delight tea drinkers and continue growing the overall tea category in a variety of ways. The Teavana Tea Bar is a critical first step for us to meet the needs of tea drinkers everywhere by providing a place where tea enthusiasts and casual tea drinkers alike can learn about, enjoy and share in the tea experience."
The Teavana Fine Teas + Teavana Tea Bar, located at 1142 Madison Ave., offers a wide range of unique hot-brewed and iced teas, tea lattes, and sparkling and tea fusion beverages. The Teavana "Wall of Tea" features a wide range of loose-leaf teas and tea blends. A collection of curated tea merchandise is also available.
Customers can also choose from a selection of food items inspired by and designed to complement tea flavors, including pastries and breakfast items, salads, flatbreads and small plates, as well as macaroons, shortbreads and other desserts.