Step Into Store 411 to See Pilot Flying J's Future
Get great content like this right in your inbox.
Subscribe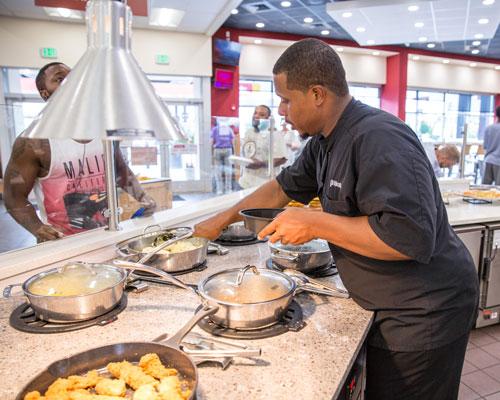 LEBANON, Tenn. — Earlier this year, Pilot Flying J created a new position: chief experience officer (CXO). With this move, the Knoxville, Tenn.-based travel center operator's goal is to enhance its commitment to guest experience as North America's travel center leader.
Taking the lead as newly named CXO is Whitney Haslam, whose previous position was vice president of brand and customer experience. In the new role, her primary focus is creating positive and memorable moments, while elevating the overall team member and guest experiences at Pilot Flying J.
"I am truly excited about my role as chief experience officer of Pilot Flying J — a role that combines both my passions and professional responsibilities. I love listening to our team members and guests, learning from them, and helping to improve their overall experience," Haslam told Convenience Store News during a recent visit. "I want the Pilot Flying J experience to be consistent at every one of our locations, so the guest knows what to expect when they enter our stores: clean restrooms; friendly service; fresh food offerings with lots of variety; and a wide selection of products geared toward those on the go."
High on Haslam's long list of responsibilities is overseeing the rebranding and remodeling of all Pilot and Flying J locations — an initiative that got underway with the company's newly reimaged Pilot Travel Center in Lebanon, Tenn., known as Store 411.
Pilot Flying J kicked off 2017 with the announcement that it was going to invest nearly $500 million to renovate existing locations over the next five years. Dubbed the Facility Enhancement Plan, the company will reimage approximately 45 stores this year and 50 next year.
"One of my personal passions is design, and I am thrilled we are investing in both new and existing stores to refresh our locations to be an inviting place to work and shop," Haslam said. "As shown at Store 411, modernizing our locations will challenge some of the stereotypes of what some think a truck stop should look and feel like."
The Lebanon Pilot Travel Center, situated off Interstate 40, has been one of the company's busiest stores for a long time, which was why the company's leadership team selected it to be one of the first big improvement projects.
The first phase of the multi-year initiative introduces a new logo and an updated appearance from a brand standpoint to all Pilot Flying J's travel centers, which encompasses more than 750 Pilot Travel Centers and Flying J locations throughout North America. All stores will sport the new logo over the next two years. Phase two is the Facility Enhancement Plan.
"We have stores that have been around a really long time. Plus, going back through our history, Pilot Flying J has done a lot of mergers and acquisitions, so we are trying to bring some unity to our guest experience as well as our food offering throughout our network," Haslam said.
CSNews got a close-up look at the finished product on a visit to Store 411 this summer, just days after the location debuted its new look.
"You are dominated when you walk in [with the message that] this is going to be a great place to eat," Pilot Flying J Chief Merchant Brian Ferguson said. "We designed all the features and set-ups, which are brand-new. It's the next generation of what we are doing as a company. This store will serve as a prototype for a lot of the facility enhancement projects we are doing this year." 
Walking through the door at Store 411, there is no mistaking that this Pilot Travel Center is in the food retailing business. Food is the focal point of every aspect of the store — the fresh food; grab-and-go; seating area; and dispensed beverages, which are flanked by the cold vault.
"We designed this whole store around food. When we were concepting this nine months ago — when we hired Shannon Johnson, [vice president of food innovation] — we said we want a dramatic food experience for the professional driver and all of our customers. It's hot, fresh food. The whole store is centered around food and beverage," explained Ferguson.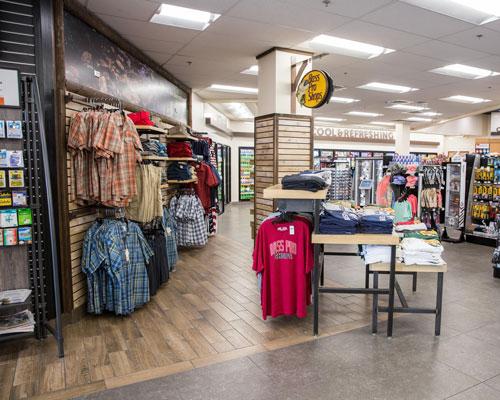 Along with the robust foodservice offerings, the floor plan features typical merchandise found in a convenience store: candy, snacks, grocery, sweet treats, etc. However, standing alongside these items at Store 411 are two new merchandise concepts: a boosted technology department and a Bass Pro Shop.
The Lebanon store is the first in the company to include a Bass Pro Shop. The two companies decided to team up on this "store-within-a-store" concept because they share a similar cross-section of customers.
"We've always been inspired by the Bass Pro Shops brand, their product, their store experience. An unbelievable amount of time and effort goes into cultivating the Bass experience. So, we zoomed in on them and thought there was a good joint-effort we can make," Ferguson said. "We are looking to redefine some of our general merchandise — apparel, accessories, hats — and what better brand to serve as a central focal point for us than Bass Pro Shops."
He believes there is further opportunity to expand not only beyond apparel, accessories and hats, but also to more locations, and even additional joint ventures.
Look in the October issue of Convenience Store News for our exclusive and in-depth cover story on the reinvention of Pilot Flying J.