Stewart Spinks, Pat Cordle to be Inducted Into Hall of Fame
GREENVILLE, S.C. -- Stewart Spinks, founder and CEO of The Spinx Co., based here, and Pat Cordle, vice president of field sales for BIC Corp., will be inducted into the Convenience Store News Industry Hall of Fame at a gala reception and dinner this fall. The CSNews Hall of Fame is celebrating its 25th anniversary this year.
Launched in 1987 with the induction of Chester Cadieux of QuikTrip Corp., the Hall of Fame has recognized convenience store industry pioneers and innovators from companies of all sizes, including James Keyes of 7-Eleven Inc., John MacDougall of Nice N Easy Grocery Shoppes Inc., Dick Wood of Wawa Inc., Steve Sheetz of Sheetz Inc. and Carl Bolch Jr. of RaceTrac Petroleum. Supplier inductees have included Michael Irish of Philip Morris, Jerry Rose of McLane Co., Joe Burke of Coca-Cola Enterprises and Greg Gilkerson of PDI.
This year's Hall of Fame induction will be held Nov. 17 in Greenville, S.C., hometown of The Spinx Co.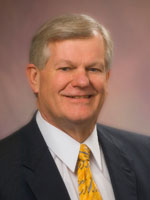 Stewart Spinks
Spinks started Spinx Oil Co. in 1972 with a home heating oil delivery company and one gas station in Greenville. The Spinx Co. is now the largest privately held gasoline convenience retailer in South Carolina.
Spinks has served the industry as a former board member of NACS and former board member and committee chairman of the Society of Independent Gasoline Marketers Association. He also served as a past chairman of the Greater Greenville Chamber of Commerce and is currently a trustee for Furman University, and a board member for several community organizations in upstate South Carolina.
Spinks earned a bachelor's degree in marketing from the University of Tennessee in 1968. He enjoys flying and is an instrument-rated pilot with more than 6,000 hours logged since 1980. He also enjoys spending time with his wife, Martha, four sons and their families.
Sharing the Hall of Fame spotlight with Spinks will be Cordle of BIC, who was selected for induction into the supplier wing of the CSNews Hall of Fame by the same 40-member Blue Ribbon panel of industry peers and past inductees.
Cordle began his career at BIC in 1986 and has held several sales and sales management positions over the past 25 years, including national account manager, regional sales manager and director of sales. Cordle has participated on several committees within the NACS organization and has served on the NACS Supplier Board since 2000.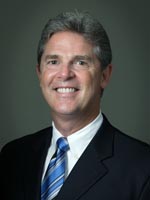 Pat Cordle
In 2009, he held the position of NACS Supplier Board chairman. He is a current member of the American Wholesale Marketers Association (AWMA) Board and serves on its Convention and Expo Committee.
Cordle earned a B.A. degree from Western Washington University and an M.B.A. from the University of Denver. He and his wife Marsha live in Monroe, Conn., and have one daughter.
Last year's CSNews Hall of Fame inductees were Sonja Hubbard of E-Z Mart Stores Inc. and Tom Joyce of The Hershey Co. The Hall of Fame roster of retailer inductees also includes:
2009: Carl Bolch Jr., RaceTrac Petroleum
2008: Bill Douglass, Douglass Distributing Co.
2007: Alain Bouchard, Alimentation Couche-Tard
2006: William Krause, Kum & Go
2005: James Keyes, 7-Eleven Inc.
2004: Henry O. "Hank" Armour, founder of West Star Corp. and current president of NACS
2003: John MacDougall, Nice N Easy Grocery Shoppes Inc.
2002: John Hansan, Sterling Stores LLC
2001: Bob Robertson, White Hen Pantry
2000: Don Lamberti, Casey's General Stores Inc.
1999: Fred M. Higgins, Minit Mart Foods Inc.
1998: Chris Girard, Plaid Pantries Inc.
1997: Jim Yates, E-Z Mart Stores Inc.
1996: Dick Wood, Wawa Inc.
1995: Steve Sheetz, Sheetz Inc.
1994: Richard Jensen, SuperAmerica Group
1993: E.L. "Steve" Stephens, Town & Country Food Stores Inc.
1992: Erich Wendl, Maverick Markets Inc.
1991: John and Jere Thompson, The Southland Corp.
1990: C. Alan Marsh, Marsh Village Pantries
1989: Robert Seng, Busy Bee Food Stores Inc.
1988: Charlie Nirenberg, Dairy Mart Convenience Stores Inc.
1987: Chester Cadieux, QuikTrip Corp.