Stripes Challenges Customers to 'Spot the Taco'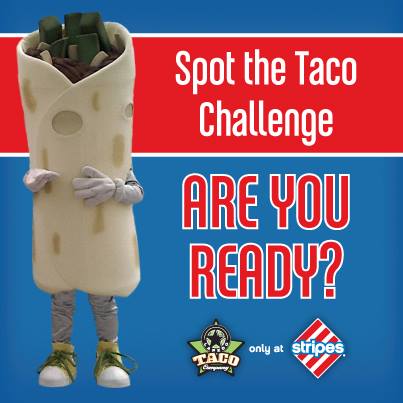 CORPUS CHRISTI, Texas -- Stripes LLC is giving away a year's worth of tacos to celebrate National Taco Day on Oct. 4.
In recognition of the day, Stripes launched a citywide challenge called "Spot the Taco." The retailer will award a grand prize of 52 Laredo Taco Co. coupons to an individual who spots its foodservice mascot and notifies the Stripes team through one of the company's social media sites: Vine, Instagram, Facebook or Twitter before 9 a.m. local time on Friday, Oct. 4.
Laredo Taco Co. is a foodservice offering found exclusively in Stripes convenience stores.
A winner will be selected at random from collected posts from Stripes-approved social networking sites and notified, the company said.
According to the retailer, the Laredo Taco Co. mascot has been out and about in Corpus Christi yesterday and today. Individuals who spot the mascot must state the time and place of the sighting, or snap a picture or video of the mascot and post it on one of the approved Stripes social media sites.
"From the Southside to the Northside, to the Bay to the Island, to the East Side to the West Side, the Laredo Taco Co. mascot will be making its way across the city of Corpus Christi. You may 'Spot the Taco' enjoying its favorite refreshment at a Stripes convenience store or enjoying a brisk walk along the bay. The mascot also needs to pick up its fishing license and needs to fuel up its convertible," the company said.
Stripes is a division of Corpus Christi-based Susser Holdings Corp., which operates 570 c-stores and gas stations in Texas, Oklahoma and New Mexico.