Strongbow Cider Launches Summer Campaign to Boost Awareness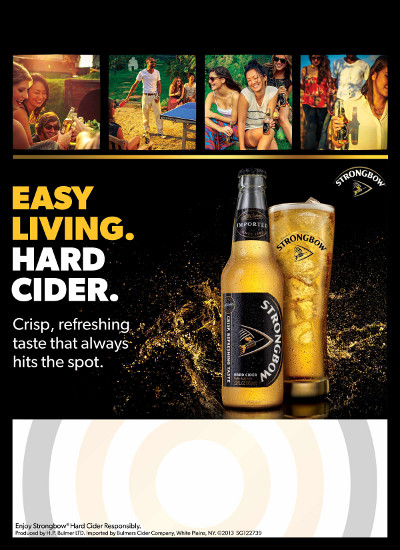 NEW YORK -- To celebrate summer, Strongbow Cider, a Heineken USA brand, will roll out a retail and event activation dubbed "Golden Hour."
New on-premise, program point-of-sale, and merchandising materials will be available to drive interest in its cider, while introducing customers to an array of signature cocktails that showcase the versatility of the brand, the company stated.
"Golden Hour is that great time of evening when the sun is setting, everything has an incredible golden hue and when day turns into night. It's the perfect time to relax and unwind with friends and chose Strongbow, a more sophisticated beverage alternative that will enhance the experience," said Heineken USA Director Charles Van Es.
Strongbow will introduce its Golden Hour Influencer program designed to engage consumers on multiple levels, including promotions that will generate buzz and excitement around the brand and the cider category. The program will feature channel-relevant instant redeemable coupons and mail-in-rebate offers, where legal, on the purchase of Strongbow and complimentary items, which will help drive higher basket rings in convenience stores and keep customers coming back for more, according to the company.
"The hard cider category is on fire and provides one of the most dynamic growth opportunities within the adult beverage category…With substantial investment and dedicated programming, including this summer's Golden Hour program, Strongbow is poised to drive further growth of the cider category and become the No. 1 upscale badge cider brand in the United States," stated Van Es.