Stronger Economy Benefiting Cigarettes Category With Improved Traffic, More Premium Sales
Get great content like this right in your inbox.
Subscribe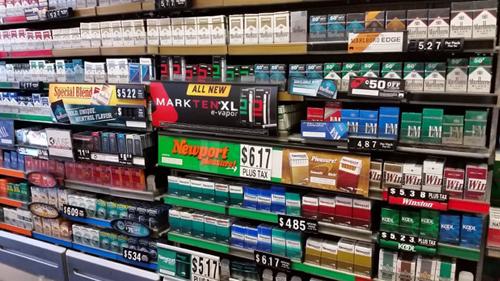 NEW YORK — Trading up to premium and stabilizing brands are just two takeaways from Well Fargo Securities LLC's latest tobacco survey.
The third-quarter Tobacco Talk found that a stronger economy and consumers are driving improved traffic, an increase in premium sales and larger baskets.
Tobacco Talk surveys retailers and wholesalers representing approximately 35,000 convenience stores in the United States.
The survey also found that the overall cigarette industry remains competitive as cigarette manufacturers vie for a shrinking volume pool.
Other key takeaways, according to Bonnie Herzog, managing director of tobacco, beverage and convenience store research at Wells Fargo Securities, include:
Conversion to JUUL continues, but not one-for-one as JUUL is also bringing in new users;

Cigarette manufacturers have slightly less pricing power today following recent price increase; and

Price gaps continue to widen, spurring some downtrading to fourth tier brands.
A future bright spot may be cannabis, the survey noted.
"Retailers see cannabis/cannabidiol as a huge potential opportunity with one retailer noting, 'bring it on,'" Herzog said.
As for brands, Wells Fargo Securities is encourage by the retailer contacts' improved sentiment toward Philip Morris USA's (PM USA) Marlboro, suggesting the brand is stabilizing. PM USA is an operating company of Altria Group Inc.
Specifically, 60 percent of the retailers characterized the brand as stabilizing aided by a robust loyalty program, an improved focus and the effective use of mobile couponing, according to Herzog.
Retailers also remain "broadly optimistic" about iQOS with more than 70 percent of survey respondents planning to add the heat-not-burn tobacco product to their stores, and roughly 50 percent planning to allocate additional shelf space to it, Herzog explained.
However, there is some skepticism about iQOS' appeal given its higher price point, perceived complexity and lower nicotine level relative to JUUL, she pointed out.
"We remain optimistic on iQOS and expect Food and Drug Administration approval will come soon — a positive catalyst — followed by commercialization in early 2019, increasing Altria's optionality to deliver reduced-risk alternatives to smokers," Herzog said.
The Tobacco Talk survey also found that pressure continues for R.J. Reynolds Tobacco Co.'s Newport brand. The tobacco company is a wholly owned subsidiary of British American Tobacco plc.
"While Newport is 'still menthol king,' retailers are broadly disappointed with the Newport Platinum rollout," Herzog said. "As a result, most retailers see further share erosion ahead for Newport especially as the brand's younger demographic increases its vulnerability to vapor and JUUL."
Looking at JUUL, Herzog called it "the brand to beat." According to the survey, retailers view JUUL as a "welcome challenge" to other electronic cigarette and vapor products. They also expect JUUL's volume to double this year before moderating to an approximate 50-percent year-over-year growth in 2019 off a larger base.
"Notably, retailers affirm JUUL is attracting new users into the category more than it is taking share from any one e-cigarette brand or cigarette player," she said. "While the FDA's crackdown remains a concern, most retailers don't think it will have a meaningful/lasting impact on either JUUL or the broader vapor category."