Sunoco Announces Winner of "Free Fuel for 5000" Promotion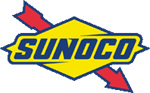 GALLIPOLIS, Ohio -- Sunoco announced this week the winner of its 2010 "Free Fuel for 5000" promotion. Mrs. Mary Young won 5,000 gallons for high-quality Sunoco gasoline, the equivalent of eight years of driving fuel, the company stated.
"Sunoco congratulates Mrs. Young and thanks her for her many years of loyalty. We would also like to thank all the customers who participated in the Free Fuel 5000. Every year we continue to see the excitement grow, not only from our customers, but also from our retailers," Drew Kabakoff, Sunoco brand manager said in the released statement. "This sweepstakes engages customers, supports our retail partners, and promotes our relationship with NASCAR at the street level. The promotion will be back in 2011 so make sure you get your decal!"
The promotion offered millions of Sunoco customers a decal identical to NASCAR racecars in the three top series. Customers spotted with the decal on their car instantly won a $10 gift card and a chance for the grand prize of 5,000 gallons of Sunoco fuel.
Mrs. Young's car, sporting the decal, was spotted on July 21 at a local fueling station on State Route 7 North located here, earning her the $10 gift card and the grand prize. She was awarded the 5,000 gallons of gas at a ceremony at the location where she was spotted. "I can't believe that I won 5,000 gallons of gas! I've been coming here for years to support a local business, but I never thought something like this would happen to me and my family because of it! Thank you, Sunoco," Mrs. Young said in the release.