Sunoco Sets Guinness World Record for Most Vehicles Refueled in One Hour
Get great content like this right in your inbox.
Subscribe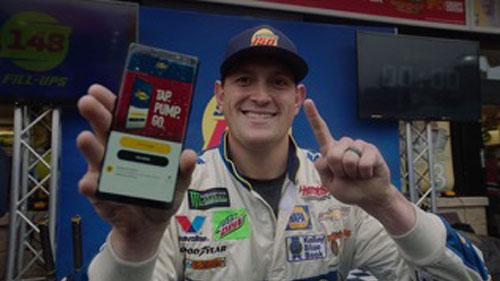 DALLAS — In an attempt to prove that its new mobile app is the fastest way for consumers to fill their vehicle's tanks and pay for fuel, Sunoco set an Official New Guinness World Records title.
The fuel distributor set the title for most vehicles refueled in one hour, with a grand total of 148 vehicles. The record-setting feat took place during a NASCAR-inspired event complete with a NASCAR pit crew fuel man, pace car, spotters and Lap Counter Board.
"We're thrilled to have set a new Guinness World Records title to prove that our new Sunoco app is the fastest way to fuel," said Sandy Deiters, senior marketing director at Sunoco LP. "The app is free to use and customers can just tap, pump and go — there's minimal waiting and plenty of additional benefits like digital receipts and location-specific offers.
"The app makes life easier for the people fueling up their cars, and it also helps our partners like the owner of this station to offer unique specials at their locations, too," she added.
A string of vehicles began lining up at 12 designated pumps at Sunoco located at 134-45 Cross Bay Blvd. in Jamaica, Queens, N.Y., at 12:01 p.m. looking to score a free tank of gas and be a part of Sunoco history. At 12:15 p.m., John Gianninoto, No. 9 Team NASCAR pit crew member, and brand ambassadors — or spotters — took their places near each of the 12 pumps and prepared for the 60-second countdown beginning at 12:59 p.m.
At 1 p.m., the official one-hour countdown clock was initiated and each spotter prompted the Sunoco app for payment. The official pumper, Gianninoto, raced to beat the clock as each spotter waived a green flag when a vehicle at their designated pump was ready to be filled. 
Once the tank was filled, the spotters waived a checkered flag, signaling for Gianninoto to close the pump and cueing for the next vehicle to drive up. In order to qualify as a fill-up, at least half a tank of gas was pumped for each car. An air horn signaled the end of the event at 2 p.m.
Afterwards, an official Guinness World Records Adjudicator presented Sunoco and Gianninoto with a Guinness World Records title for "Most Vehicles Refueled in One Hour."
The Sunoco mobile app is currently available for iOS and Android. It enables customers to Tap, Pump and Go with minimal waiting and additional benefits, such as digital receipts and location-specific offers. Users can also search for a location, link participating grocery rewards, favorite locations, and view available offers and promos at nearby stores.
The app is now available to use at thousands of locations throughout the United States, with additional locations being added every day.  
Dallas-based Sunoco LP is a master limited partnership that distributes fuel to approximately 9,900 convenience stores, independent dealers, commercial customers and distributors located in more than 30 states. Its general partner is owned by Energy Transfer Operating LP, a wholly owned subsidiary of Energy Transfer LP.