Supplier Spotlights: Ascentium Capital, Hostess & Petrosoft
Get great content like this right in your inbox.
Subscribe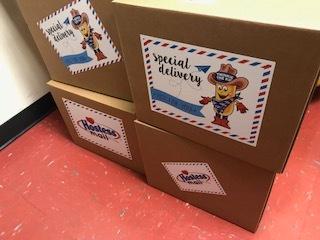 NATIONAL REPORT — While it's important for convenience store retailers to market themselves, new products, services, promotions and other initiatives by c-store suppliers are a major part of capturing consumer interest. Convenience Store News will regularly highlight such efforts in this roundup.
Here are the latest supplier spotlights:
Ascentium Capital
During fiscal year 2017, Ascentium Capital LLC surpassed $1 billion in annual funded volume for the first time in the organization's history. The company manages $1.9 billion in assets and has funded $3.7 billion since 2011.
Other key accomplishments during 2017 include:
Ranked as the Top Private Independent Finance Company in the United States;

Recognized as Best Business Lending Platform with FinTech Breakthrough Award Designation;

Completed eight small ticket equipment securitizations since inception; and

Awarded Houston Business Journal's Fast 100 based on growth.
"These significant milestones are celebrated with gratitude for our employees, clients and business partners," comments Ascentium CEO Tom Depping. "This represents our unwavering commitment and focus on providing customers with unmatched opportunities that our financing products and services deliver."
In 2018, Ascentium will expand the size of its sales team, continue to enhance the Ascentium University sales training program and invest in strategic technology initiatives.
"Our customized financing programs empower organizations. We continue to seize market share in the small and middle ticket marketplace and our record-breaking year was made possible by the continued strength of our brand, financial product offering and the relentless commitment of Team Ascentium," said Richard Baccaro, chief sales and marketing officer for Ascentium.
Cheyenne International
Cheyenne launched its new corporate logo as the first change to its visual identity since its 2002 inception. The updated version of the company's iconic sun, a brighter color and new defined elements help the logo better reflect the corporate brand today and its dynamic future. Additionally, Cheyenne overhauled its website, www.cheyenneintl.com, to be easier and easier to navigate.
"Designing a brand mark that is eye-catching while still preserving our heritage was key to our overall effort," said Cheyenne CEO David Scott.
The evolution of its brand identity highlights Cheyenne as a powerful and progressive tobacco company that continues to rise in an ever-changing market, according to the company. The four bands of the rising sun symbolize the four pillars that support the company's philosophy: Partnership, Quality, Compliance and Success.
Dunn's River Brands
Fireman Capital Partners partnered with Dunn's River Brands (DRB) to acquire the Sweet Leaf Tea and Tradewinds businesses from Nestlé Waters North America. Terms of the deal were not disclosed.
DRB is a strategic beverage platform that will support a portfolio of influential next-generation beverage companies, accelerating their growth through a shared resource model, the company said. The Sweet Leaf Tea and Tradewinds businesses are respected legacy brands with diversified offerings in the ready-to-drink tea category.
The platform structure of DRB will facilitate shared operational and administrative support functions and leverage distribution relationships.
Hostess Brands
On the eve of the 2017 winter solstice on Dec. 21, Hostess gave an extra dose of sweetness and warmth to the residents of Beaver, Alaska, a community that experienced just one hour of sunlight on the shortest day of the year. It provided Hostess Twinkies and CupCakes for each of the village's 62 residents.
"One of the best things about Hostess treats is their capacity to warm and comfort generations of consumers," said Burke Raine, Hostess senior vice president and chief marketing officer. "With this small token — a surprise delivery of fresh treats — we hope to bring some warmth and light to this community on their darkest day — literally."
The boxes of treats were distributed by the Beaver Village Council.
"Beaver is one of America's northernmost villages, meaning our community experiences a winter solstice darker and colder than most — in fact, as I walked my daughter to school this morning, the moon shone bright in the sky, while temperatures barely reached zero degrees," said Rhonda Pitka, chief, Beaver Village. "We are touched by Hostess's genuine and cheerful gesture."
Hydrive Energy Water
Christen Press, a forward for the U.S. Women's National Team, FIFA Women's World Cup Champion and Chicago Red Stars' National Women's Soccer League Captain, will serve as the 2018 brand ambassador for zero-calorie Hydrive Energy Water.
The retail marketing program partnership will include displays and point of sale materials. It will culminate with a sweepstakes that fans can enter to win a private, personalized soccer clinic with Press, who will travel to the winner's hometown to host and event for them and their friends. She will also support the brand on social media throughout the year.
"Christen is an extremely talented, influential athlete. Her fitness-focused, on-the-go lifestyle resonates with our consumers and we are thrilled to partner with her as the official brand ambassador for Hydrive Energy Water," said Thomas Oh, senior vice president of marketing for Big Red, owner of Hydrive Energy Water.
Kantar Consulting
Kantar, WPP's data investment management division, is launching Kantar Consulting as a specialist sales and marketing consultancy designed to "switch on growth" for brand owners and retailers. It combines retail, sales, e-commerce and marketing expertise and a deep understanding of how consumers think, live, behave and buy and world-leading proprietary data, according to the company.
The new consultancy was formed from the merger of four founding brands: Kantar Added Value, Kantar Futures, Kantar Vermeer and Kantar Retail.
"We live in a new era of consumption. Growth can no longer be assumed, yet there are more, not fewer, opportunities to build breakout brands and new lines of business. Future growth exists, but beyond the comfort zone of most organizations; it is more granular, less siloed and more opportunistic," said Phil Smiley, CEO of Kantar Consulting. "We will rewrite the rules of demand and the conventions of marketing and sales. Our Whole Demand philosophy will help clients go beyond strategy to generate and convert demand and create long-lasting, sustainable growth."
Kantar Consulting launched with more than 1,000 analysts, thought leaders, software developers and expert consultants. Its assets include PoweRanking, RetaiI IQ, RichMix, XTEL, VR Infinity, GrowthFinder, Global Monitor, and the 'Marketing, Insights and Purpose 2020' series.
"We are creating Kantar Consulting to fulfill our ambition of bringing a deeper, more rounded consulting offer to our clients," said Eric Salama, CEO of Kantar. "Alone and in combination with other capabilities, Kantar Consulting will be a core part of Kantar and WPP's success in the future."
Petrosoft
To meet the growing demand for its retail operations, ERP, BI, and global cloud apps and technology solutions, Petrosoft consolidated business operations at its new headquarters in Pittsburgh.
Located at 290 Bilmar Drive, the 67,000-square-foot facility accommodates the company's growing administrative, human resources, product development, implementation, customer services, marketing, sales and technical support teams.
Additionally, Petrosoft has enhanced its operational technology and backbone to streamline internal and customer communications. The improvements are designed to enable faster response and resolution times.
"The relocation of our headquarters to Bilmar from Greentree has provided us with the space needed for expansion and an important milestone. This move has given the team a reason to reflect on the growth of the company over the past 15 years," said Sergei Gorloff, founder and CEO of Petrosoft. "We believe the time invested in the design of the new space and enhancements to the company's operational technology will provide the right base to scale over the next few years."