Supplier Spotlights: Dunkin' Donuts, The Hershey Co. & PepsiCo
Get great content like this right in your inbox.
Subscribe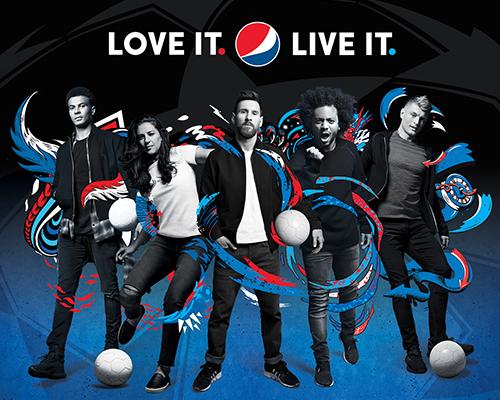 NATIONAL REPORT — While it's important for convenience store retailers to market themselves, new products, services, promotions and other initiatives by c-store suppliers are a major part of capturing consumer interest. Convenience Store News will regularly highlight such efforts in this roundup.
Here are the latest supplier spotlights:
Dunkin' Brands Group
Dunkin' Donuts has launched Dunkin' Go2s, the brand's new national value menu. At participating Dunkin' Donuts restaurants, the Dunkin' Go2s menu allows customers to choose from among three of the brand's most popular breakfast sandwiches and purchase two of their go-to favorites at $2, $3 or $5 price points.
Available all day long, Dunkin' Go2s include:
Two Egg & Cheese Wake-up Wraps for $2

Two Egg & Cheese Breakfast Sandwiches served on English Muffins for $3

Two Egg, Cheese & Bacon Breakfast Sandwiches served on Croissants for $5
"Dunkin' Donuts is committed to offering our guests quality products at compelling prices, and we are excited to introduce a new national value menu," said Tony Weisman, chief marketing officer, Dunkin' Donuts U.S. "Dunkin' Go2s is focused on delivering more choices and great value for our most popular go-to breakfast sandwiches. Now guests can enjoy not one but two of their favorite breakfast sandwiches priced at $2, $3 or $5."
Fontem Ventures
The owner of blu e-cigarette brand is partnering with Cosmic Fog Vapors, an innovator in high-quality e-liquid products, via an equity stake. The alliance reinforces Fontem's commitment to continued growth in the vape category following the recent launch of its new myblu device.
"Partnering with Cosmic Fog is truly an investment in the future of vape. We've long recognized that growth in this category, and our success within it, is driven by appealing to what consumers want most," said Fontem Ventures CEO Titus Wouda Kuipers. "Liquid is a big part of this, and that's an area where we're still learning. We're excited by Cosmic Fog's passion and leadership in this space, and see a tremendous opportunity to learn from their expertise."
Business operations for both brands will continue as usual, with an immediate focus on shared learning in the coming months.
"We're especially excited to tap into Cosmic Fog's knowledge and experience as we increase our commitment to the vape shop sales channel," said Wayne Jones, Fontem Ventures' vice president of sales. "We're in the process of creating a dedicated sales team for this channel, as well as setting up vape shop councils to facilitate a stronger two-way dialogue, so we can better understand and support their needs over the long-term."
The Hershey Co.
Hershey selected Accenture to implement SAP S/4HANA as part of a program designed to help it streamline manufacturing and supply chain processes, gain real-time customer insights to inform decision-making and accelerate revenue-generating innovation to drive growth.
"Our collaboration with Accenture will enable us to increase competitive advantage and support our growth ambition through greater collaboration and innovation, as well as service delivery built around the needs of our customers," said Terry O'Day, chief product supply and technology officer for The Hershey Co. "We selected Accenture for its understanding of our industry, technology credentials and proven track record in delivering enterprise transformation at scale."
The project is part of Hershey's strategy to grow core confectionery and snacking products, expand margins and leverage technology for competitive advantage.
"Implementing SAP S/4HANA as part of this transformation initiative is a further demonstration of Hershey's commitment to become a truly modern enterprise that puts the consumer first," said Richard Simon, a managing director in Accenture's consumer goods and services practice. "We are focused on helping Hershey bring innovation to market, maximize its business performance and operate even more efficiently."
Inline Plastics
After more than a year of planning, design, and construction, Inline Plastics has completed a total facility renovation of its newly named Innovation Center in Milford, Conn. One of the original Inline Plastics Buildings on Seemans Lane has been completely upgraded and rebuilt to house a high-tech corporate research and development facility.
The new Innovation Center is dedicated to the research, development and engineering (RD&E) of food packaging solutions that meet and exceed customer and consumer expectations.
"The Inline Plastics RD&E team is constantly developing new ideas and products that transform how food products are packaged and marketed to consumers," said Steve Introne, director of RD&E and corporate quality. "This new Innovation Center was strategically designed to not only foster that creativity, but increase the efficiency and effectiveness of our new product development processes. This enables us to quickly get new ideas and products into the hands of our customers."
To celebrate the facility's completion, Inline Plastics hosted a launch event at the Innovation Center on March 27. President and owner Tom Orkisz was joined by the entire senior leadership team for a ribbon-cutting and tour of the upgraded facility.
"Our investment in building the Innovation Center showcases our commitment to excellence and continuous improvement to our product lines," Orkisz said. "This Innovation Center is the home of a high-performance team that can capitalize on the tools and environment that inspire creative thinking, promote collaboration, and streamline communication in the research, development and engineering of the next generation of Inline Plastics' products."
ITW Food Equipment Group
The U.S. Environmental Protection Agency (EPA) awarded ITW Food Equipment Group its Energy Star Partner of the Year – Sustained Excellence Award for 2018, the agency's highest industry honor.
This marks the 11th consecutive year it has received the award.
"ITW Food Equipment Group has always been strongly committed to energy and resource efficiency, and our partnership with Energy Star over the last 11 years has been a reflection of this," said Lei Schlitz, executive vice president, ITW Food Equipment Group. "We focus on designing and building efficient, high performance food equipment, not for the awards, but to better support our customers, the industry and our environment, which is one reason why professionals consistently choose our brands across categories."
The 2018 Partner of the Year – Sustained Excellence Awards are bestowed upon companies and other organizations demonstrating continued leadership in energy efficiency and commitment to the Energy Star program. In addition to designing, manufacturing and selling ENERGY STAR certified products, ITW Food Equipment Group has also made significant investments to educate clients on the benefits of Energy Star equipment.
Morinaga America
HI-CHEW is partnering with the Los Angeles Angels to bring the fruity, chewy candy into Angel Stadium throughout the 2018 season. This includes on-site activations, product sampling during select games and the availability of HI-CHEW for purchase at concession stands.
HI-CHEW is also entering its third year as an official partner of the Los Angeles Dodgers.
"We are thrilled to be a part of baseball culture, particularly in Los Angeles, a city that has quickly become HI-CHEW's home base in America," said Norio Otsuki, chief operating officer of Morinaga America, Inc. "Our new partnership with the Angels and continued relationship with the Dodgers will provide players and fans alike the ability to enjoy HI-CHEW at every ballgame."
Beyond the iconic Freeway Series in July, with the Angels playing the Dodgers, HI-CHEW will hold sampling events at several home games throughout the season for each team. It will also support the local Little League as the Presenting Sponsor of Youth Baseball and Softball Sundays at Angel Stadium, featuring sampling activations during certain games.
"We are delighted to welcome HI-CHEW to the Angels family," said Angels Chairman Dennis Kuhl. "We're excited to add another great snack option at the ballpark, and we are looking forward to working together to support the local baseball community."
PepsiCo
PepsiCo is supporting the sport of soccer, known internationally as football, by launching its global 2018 "LOVE IT. LIVE IT. FOOTBALL." campaign. Throughout the year, Pepsi seeks to showcase everything from shareworthy content with famed players to unexpected football moments and experiences.
"Pepsi is known for bringing football's most iconic heroes and hopefuls to the world in unexpected, entertaining ways, showing fans the never-seen-before sides of the players they love," said Natalia Filippociants, senior marketing director, global Pepsi trademark, Global Beverage Group, PepsiCo. "What tightly links the football experience across our iconic brand, the players and our collective fans around the world is a love for the game. This year, we'll love and live the game like never before in all we do."
The lineup of global football players teaming up with Pepsi for the campaign includes:
Leo Messi, five-time Best Player of the Year and Four-time UEFA Champions League winner.

Marcelo, world-renowned Brazilian defender and back to back UEFA Champions League winner.

Toni Kroos, three-time UEFA Champions League winner and German midfielder.

Carli Lloyd, U.S. award-winning playmaker and two-time Women's Best Player of the Year.

Dele Alli, English rising star and two-time Young Player of the Year.
The campaign includes a "Love it. Live it." global TV commercial featuring all five football stars. The athletes will also be featured in a series of bold, black and white portraits taken by photographer Danny Clinch. Later in the year, Pepsi will release disruptive content and experiences such as personal conversations with the players; content from COPA90, the definitive media brand for football and fan culture; and UEFA Champions League Final access and entertainment.
Propel
In 2001, Propel electrolyte Water was positioned as "Propel Fitness Water, from the makers of Gatorade." As part of its reconnect with the fitness community and regain its position as the water fot fitness, Propel Electrolyte Water is getting back to its roots in a modern way that aligns with its on-the-go target audience's lifestyle.
The brand created a new TV spot, "How Gatorade Does water," which was designed to showcase Propel's credentials with the new campaign that leans into its Gatorade history and visualize its hydration benefits. The product-centric campaign dramatizes hydration for active people with a concept that is reminiscent of campaigns fans may remember but with a fresh, modern look, according to the company.
The new TV commercial is available here. Propel's integrated marketing campaign will run throughout the summer.
Simard & Sons
The family-owned and -operated business with more than 90 years of experience in the petroleum industry will begin delivering Leighton O'Brien's fuel cleaning and polishing services starting April 17.
Simard & Sons will deliver Leighton O'Brien's market-leading fuel cleaning and polishing technology to their clients in the New England region through their offices in Lewiston and Hampden, Maine.
The services will be doncuted by fully trained and safety certified Simard & Sons technicians and supported by expert fuel data analysis and comprehensive reporting by Leighton O'Brien's analysts.
"Through this partnership, we will expand our presence and enhance our services portfolio by utilizing Leighton O'Brien's market-leading technologies," said Elwin Scott, president of Simard & Sons. "Along with Leighton O'Brien's precision tank and line testing, analysis and reporting services, our customers will benefit from our expanded partnership with Leighton O'Brien", he said.
Stryve Foods
Protein snacks startup Stryve Foods LLC has acquired Braaitime LLC. This, along with its acquisition of USA made earlier in the year, makes Stryve Foods LLC the sole owner of all USDA-approved biltong facilities in the United States.
Braaitime has produced South African style cured meats that are all natural, zero sugar, gluten-free, and made with the highest quality beef for 12 years.
"I am delighted that our dream of bringing biltong to every home in America is on its way to becoming a reality, and look forward to being a part of the team that will make this happen," said Braaitime LLC Division President Warren Pala.
Stryve Foods' acquisition of Braaitime is an expression of its intention to expand biltong products into new markets in 2018. This combination of expertise and resources is the starting point for generating awareness of biltong product lines while taking action to expand production for mass distribution, the company said.
Braaitime will continue to operate as a subsidiary brand to Stryve Foods. Pala will transition to Director of Manufacturing for Stryve Foods, overseeing production in all of their biltong facilities.
Stuzo
Stuzo, a leading provider of personalized and predictive commerce solutions for retailers, powered by products, services, and insights, announced it has completed PCI DSS Level 1 compliance certification.
"As a leading provider digital commerce solutions for retailers, it is imperative our company, our Open Commerce products, network, infrastructure, and processes meet the most rigorous security standards," stated Aaron McLean, chief operating officer of Stuzo. "As security is an evergreen concern within merchants and their technology partner ecosystem, it was of the utmost importance for us to make this investment in Stuzo and our retail clients."
Today's quickly evolving technology landscape, growing concern over international data security threats, and the continuing digitization of payments make compliance a key issue for all merchants, consumers, and digital commerce technology suppliers such as itself, the company said.
"With security breaches and cybercrimes considered commonplace, cybersecurity and adhering to PCI Data Security Standards are critical to keeping consumers' personally identifiable information safe and secure," stated John Shin, managing director of RSI Security, who performed the assessment. "By achieving PCI DSS certification, Stuzo assures its retail clients that their data and that of their consumers is being handled with a high degree of security compliance."