05/24/2018
Sweets & Snacks Expo 2018 Unwraps the Latest & Greatest in Innovation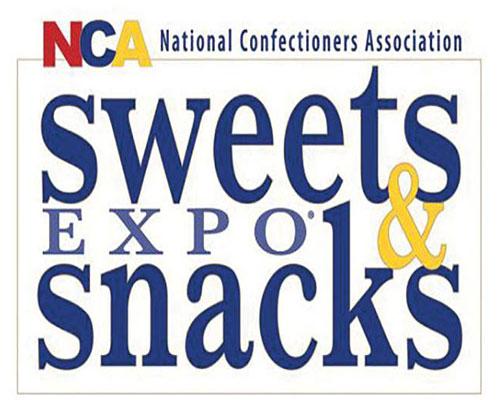 CHICAGO — The National Confectioners Association's (NCA) 2018 Sweets & Snacks Expo took over Chicago's McCormick Place West this week, welcoming nearly 18,000 candy and snack professionals.
The 21st annual expo gave attendees the chance to experience thousands of the latest and greatest innovations in chocolate, candy, gum, mints, and sweet and savory snack products belonging to more than 850 exhibitors.
A resounding "Welcome to Candy and Snacks" echoed throughout the two expo halls: the main show floor and Skyline Hall's Innovation Avenue, which showcased companies that are just launching their businesses.
On the show floor, confectioners and snack manufacturers — spanning from the small and local, to the wide and international (more than 90 countries) — showcased the latest trends in treating and snacking, like caramel and coconut flavors regaining momentum, the rise of white chocolate, the continued focus on health and wellness with products made from non-GMO vegetables, and brand extensions.
This year's Sweets & Snacks Expo also marked the second year of the "Always a Treat Initiative." At last year's show, leading confectionery companies — Mars Wrigley Confectionery, Lindt, Ghirardelli, Russell Stover, Ferrero USA and Ferrara Candy Co. — made a five-year commitment to provide consumers with information, options and support as they enjoy their favorite treats. Three elements make up the initiative:
Information with calorie labels on the front of packaging;

Options that give consumers choices in smaller packaging; and

Support to provide consumers with informed choices.
"Our industry is committed to helping consumers manage their sugar intake while still enjoying their favorite treats," said NCA President and CEO John Downs. "Much of the confectionery industry is moving toward offering consumers more transparency, portion guidance, options and education. Whether that's a wider variety of product sizes to choose from, simple ingredient lists, or clear calorie labels on the front of packaging, the industry is empowering consumers to make informed choices."
Victory is Sweet
The expo also brought the reveal of the 2018 Most Innovative New Product Awards winners, presented by IRI.
Category finalists and winners were determined by a judging panel that tested and evaluated more than 300 submissions — of which, 51 were chocolate, 20 were made with artisanal salt, 21 featured caramel, and 20 featured coconut.
The judging criteria included taste, innovation, packaging, and go-to-market ability.
The Most Innovative New Product Awards winners are:
Chocolate: Hershey's Gold Standard Bar, The Hershey Co.
Non-Chocolate: Big Chewy Nerds, Nestlé USA Inc./Ferrara Candy Co. Inc.
Sweet Snacks: Organic White Chocolate Mini Peanut Butter Cups, Justin's
Salty Snacks: Tangerine Vanilla Cashew-Macadamia Glazed Mix, Sahale Snacks
Savory Snacks: Trail Mix Crackers, Alli & Rose
Novelty/Licensed: Warheads Dippin' Ring, Impact Confections Inc.
Seasonal: Rocher Golden Heart for You & Me, Ferrero USA
Gourmet/Premium: ParmCrisps Trios Original, That's How We Roll
Gum & Mints: Tic Tac Gum Cool Tropical, Ferrero USA
Best in Show: Bakery Petites Double Chocolate Cake Delights, Hostess Brands LLC

Small Business Innovator Award:

Wild Ophelia Hazelnut Cocoa Toast, 

Vosges Haut-Chocolat
The inaugural Ruby Award for Supplier Innovation was also introduced to this year's Most Innovative New Product Awards and presented to Barry Callebaut A.G. USA LLC for its Ruby chocolate.
Downs of NCA explained that this product was the inspiration for the award, which honors breakthrough developments that advance confectionery manufacturing.
Ruby chocolate is made from the Ruby cocoa bean and, through a unique process, unlocks the flavor and color tone naturally present. No berries, berry flavor or color is added. It is the fourth flavor in the Barry Callebaut line of chocolates, which also includes White, Dark and Milk varieties.  
"Ruby Chocolate stood out in a new way and is the definition of innovation," Downs commented.
The 2018 Sweets & Snacks Expo took place May 22-24.