TA and Petro Offer Discounts for AAA Members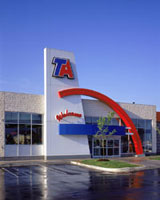 WESTLAKE, Ohio -- TravelCenters of America and Petro Stopping Centers have become the newest partner in AAA's Show Your Card & Save program and will offer AAA members a 10-percent discount at participating locations of the more than 365 restaurants. AAA's 51 million members can Refuel, Replenish and Refresh at TA/TravelCenters of America and Petro Stopping Centers across the country.

"Our more than 160 TA locations and more than 60 Petro locations are open every single day, 24 hours a day," Tom O'Brien, CEO, said in a released statement. "We offer travelers a place to get fuel, a meal or a snack, necessities for road trips and get back on the way to their final destination."

TA and Petro both include travel stores that have a selection of products wider than most convenience stores or state-run rest areas. Most TA and Petro also locations offer full-service restaurants, with down-home comfort food at affordable prices.

The AAA Show Your Card & Save discount will also be honored at participating quick service restaurants within the company's Goasis locations in Brunswick, GA and Ashland, OH.