TA Re-Opens Its Nashville Location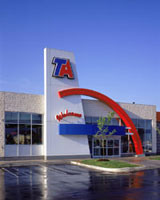 WESTLAKE, Ohio -- TravelCenters of America LLC (TA) recently announce that it will reopen its travel center located on 111 North First St. in Nashville, Tenn. on February 3. According to the company the site was closed down in May of last year due to the massive floods that ravaged the Nashville Metropolitan area. The site is located at Exit 48 off of Interstate 24.
"We are excited to welcome our loyal customers back to Nashville," Thomas O'Brien, president and CEO of TravelCenters of America said in a released statement. "Not only will our customers find our facility warm, inviting and redesigned with them in mind, I'm very happy and proud to be able to have reintroduced 55 jobs to the Nashville area. Many of our employees today worked at the site before the floods and they are as excited as I am to welcome back our customers. In fact all three of our managers, Virginia Cook in the travel store, Terry Lacuniak in the restaurant and Don Lacuniak in our truck service center will be familiar faces to our customers".
The TA location has undergone $6 million in renovation to repair the flood damage.
The redevelopment has resulted in a 4,000 square foot trucker store, a 114 seat Country Pride full service restaurant, completely rebuilt showers and restrooms, a driver's lounge with a 55-inch flat screen high definition television and plush leather seats designed by La-Z-Boy, according to the company.
TA Nashville participates in all of the TA programs including the UltraONE driver rewards program and the StayFit driver wellness program. The location has a brand new driver fitness room outfitted with aerobic exercise equipment. The Country Pride restaurant offers guests homestyle cooking plus selected items for the health conscious designated with the StayFit logo, the company stated.
The six-bay truck service center, staffed with ASE Certified Technicians, is a Freightliner ServicePoint location and offers RoadSquad roadside assistance vehicles.
Other additions that TA Nashville includes are WiFi access, a game room and a laundry room. CAT Scale, TripPak, Western Union and Transcore load monitoring services are also offered.
TA Nashville also offers nine diesel lanes, one of which is outfitted with an on-island Diesel Exhaust Fluid dispenser.
Also, TA Nashville is the first TA in the nation to include StaySafe, an experimental parking lot awareness program, including, among other things, 24-hour state of the art parking lot security cameras covering the 167-space truck parking area, the company stated.
TA plans to have a grand re-opening celebration March 1-5 that will feature celebrities, music, prizes and special deals.