Taco Bell Fires Up Third Doritos Locos Tacos Variety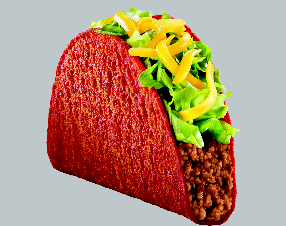 IRVINE, Calif. – Taco Bell will expand its popular Doritos Locos Tacos (DLT) line with the addition of a third flavor, Fiery Doritos Locos Tacos. The new taco combines spicy chili with a hint of lime and will be available starting Aug. 22.
"Launching the first two Doritos Locos Tacos were obvious: Nacho Cheese is the top-selling Doritos flavor and our fans asked us for Cool Ranch. For the third DLT, we heard our customers as they told us they wanted something spicy and with flavor," said Taco Bell President Brian Niccol. "So, in another Taco Bell first, we partnered with Frito-Lay to create a DLT that delivers heat but with a twist, and is available exclusively at Taco Bell. Mirroring the flavors of a regional spicy Doritos chip, we made a few changes based on customer feedback – including the use of a red shell and a more descriptive name – to create Fiery DLT."
Taco Bell has sold 600 million Doritos Locos Tacos since March 2012, and it has become the brand's most successful product platform ever.
Fans may be able to try the new flavor early by keeping their eyes and ears on Taco Bell's social media channel for surprise opportunities, the company stated. After the national launch, a Fiery DLT will cost $1.39 for a regular version and $1.69 for a supreme version, made with reduced-fat sour cream and diced tomatoes.
"Only Taco Bell and Frito-Lay could partner together to create the hugely successful Doritos Locos Tacos platform," said Chris Brandt, chief marketing officer for Taco Bell. "The partnership continues to prove the power of two mega brands working together to create firsts in restaurants and in the grocery aisle."
Brandt also noted that people who tried the new Fiery DLT flavor in test markets were so passionate about it that they visited Taco Bell restaurants more often.
A media campaign including television and radio ads, in-store point-of-purchase support, and use of digital and social media will accompany the launch.
Before announcing the new flavor, Taco Bell mailed boxes containing a variety of Doritos chips and marked with the hashtag "#_DLT" to media and other influencers in order to prompt guesses about the new flavor.