Taco Bell Serves Up Menu Changes
IRVINE, Calif. -- Taco Bell Corp. is building excitement around its new menu additions this month, including a new Doritos Locos Tacos flavor and new breakfast items that will be piloted starting this week.
Following the success of its Nacho Cheese- and Cool Ranch-flavored Doritos Locos Tacos, Taco Bell took to Twitter and Vine today to entice fans. The new flavor will be released Aug. 22, as seen in the Vine video below.
The national fast-food chain will also test a new breakfast item in about 100 of its restaurants in three markets starting Thursday, according to a report by Nation's Restaurant News.
Taco Bell currently offers breakfast items in 850 if its locations, mostly in the West. The chain is trying to cash in on the estimated $42 billion American diners spend on restaurant breakfasts, according to research by Technomic Inc.
"We've been really happy with the performance [of breakfast] so far," Liz Matthews, Taco Bell's chief food innovation officer, told the news outlet. "As we go into this test, we're being really open because we're learning. We're going to get this right."
The pilot breakfast menu will appear in Fresno, Calif., Omaha, Neb., and Chattanooga, Tenn., and features the new Waffle Taco, oatmeal with fresh berries, a fruit-topped yogurt-and-granola parfait and the MTN Dew Kickstart fountain drink -- a PepsiCo Inc. beverage that blends Mountain Dew and orange juice.
The Waffle Taco is cris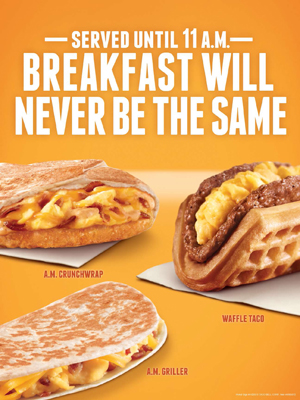 py outside and fluffy inside, and holds scrambled eggs and a sausage patty. It is served with a packet of syrup and sold for a suggested retail price of $1.79. The Waffle Taco was micro-tested in five Southern California resturants earlier this year and a picture of it went viral on Instagram, the news outlet reported.
Taco Bell is also trying to accommodate customers who want healthier options such as the parfait and oatmeal, which will both be offered for a recommended $1.99.
The test menu will also feature the A.M. Griller and A.M. CrunchWrap, which have already appeared on Taco Bell's "First Meal" breakfast platform that debuted last year. The A.M. Crunchwrap features scrambled eggs, bacon or Johnsonville sausage, crispy hash browns and melted cheese stuffed inside a flour tortilla and grilled. It is sold for a suggested retail price of $2.49.
Taco Bell will continue to offer the $1 A.M. Griller, made with scrambled eggs, melted cheddar cheese, and bacon or sausage, folded in a warm tortilla and grilled. Other existing options -- such as the Bacon and Egg or Sausage and Egg Burritos for $1.49, a Steak and Egg Burrito for $2.29, and regular Tropicana Orange Juice for $1.69 -- will remain on the menu.
Cinnabon Delights are also staying for breakfast, Taco Bell confirmed. The doughnut holes covered in Cinnabon frosting and brown sugar have been so successful that the chain is planning on offering them during all dayparts, the news outlet reported.
And for customers who just want their morning coffee, the fast-food chain will test a non-branded "premium Rainforest Alliance-certified" coffee, available hot and iced in regular, caramel or vanilla, and mocha flavors at suggested prices of $1.49, $1.79 and $1.99, respectively.
Some units will experiment with opening as early as 6 a.m., depending on location, Matthews said. Restaurants offering breakfast have been opening typically between 8 a.m. and 9 a.m.
Taco Bell Corp. is a subsidiary of Yum! Brands Inc., and has a network of more than 350 franchise organizations that operate nearly 6,000 restaurants across the United States.