Tedeschi Food Shops Opens New Location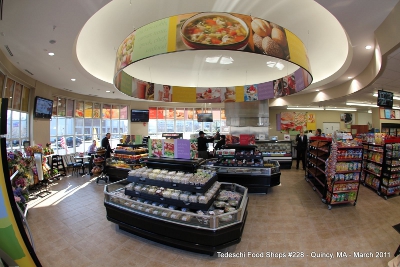 QUINCY, Mass. -- Tedeschi Food Shops has opened a new location with services unique to the site in Quincy, Mass., the company announced. The store is 3,926 square feet and located at 85 Quincy Avenue.
Along with Tedeschi's usual line of food and beverages, proprietary product lines and general grocery needs, the services unique to this location include a butcher shop that features certified Angus beef; made-to-order pizzas; freshly baked artisan breads, rolls, muffins and pastries; specialty cheeses; an extended produce section that features freshly cut flowers; shakes and smoothies; hot take-home meals; and all-natural frozen meat and meal choices.
The store also contains TD's Deli, where customers can place their orders through touch screen kiosks and eat in a seating area with complimentary Wi-Fi.
As part of the store's opening, for a limited time customers will receive a free muffin with any purchase of Green Mountain coffee, and promotional discounts on gallons of Garelick Farms 1-percent milk, Tedeschi Select two-liter sodas, Poland Spring water 24-packs and Edy's Ice Cream 48-ounce tubs will run through April. The store will also host a Grand Opening ceremony this spring which will features product samples, prize giveaways, entertainment and appearances by local dignitaries.