Thanks to Kum & Go, Red Kettles Go Digital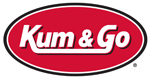 FORT DODGE, Iowa -- Thanks to a donation from Kum & Go, the new E-Kettle is making its first appearance in Fort Dodge's Salvation Army Red Kettle Campaign, the Fort Dodge Messenger reported.
The E-Kettle is a wireless card reader that allows donors to swipe their credit/debit cards, then enter the amount they wish to donate, sign the receipt, drop it into a clear kettle and keep a copy for themselves. Any amount over $1 can be donated this way, according to the report.
"A lot of people don't carry cash," said Salvation Army Capt. Ronald Cook, who is overseeing this year's local Red Kettle Campaign along with Salvation Army Capt. Carol Cook.
The E-Kettle was set up this past Friday at the Crossroads Mall in Fort Dodge, where Jenna Schild, 17, and her friend Jessica Alstott, 15, were manning it near the food court.
The pair had some cash donations during their shift, but said they were still waiting for somebody to swipe a card. "They come up and look at it," Schild said. "They haven't used it yet."
There are 11 locations throughout Fort Dodge where kettles are located. When not out on location, the E-Kettle can be found at Salvation Army headquarters in downtown Fort Dodge.