Thorntons Launches Company-wide Coffee Program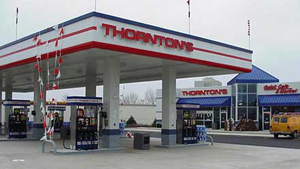 LOUISVILLE, Ky. -- Thorntons recently announced that they will be launching a new company-wide coffee program starting in the Louisville/Southern Indiana market. To support the new initiative Thorntons plans to add 160 new jobs over the next year.
The primary role of the position is to greet and serve morning coffee customers. The company is looking for friendly and outgoing morning people, who love to serve coffee and meet new people. The position of coffee host and hostess will work the morning coffee rush, typically from 5 a.m. to 10 a.m., the company stated.
Thorntons is holding a job fair for the positions on February 8 from 9 a.m. to 2 p.m. at the Thorntons Store Support Center located at 10101 Linn Station Road in Louisville. For additional information, interested parties can contact The Coffee Program Development Center at (502) 339-8385.
Locally headquartered Thorntons operate 165 gasoline and convenience stores, car washes and travel plazas in five states: Kentucky, Illinois, Indiana, Ohio, and Tennessee.