04/06/2018
TravelCenters of America Adds Used Truck Information to Services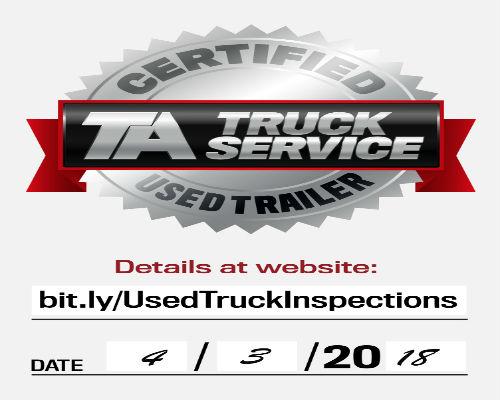 WESTLAKE, Ohio — TravelCenters of America LLC (TA) has added a new service to its repertoire with the launch of TA Truck Service Certified Used Truck and Certified Used Trailer inspections.
The service provides information to the used truck community on the condition of used trucks and trailers available for resale. To complement the inspection process, TA Truck Service developed a Certified Used Truck and Certified Used Trailer emblem that is displayed only on trucks or trailers that have passed both a DOT inspection and a series of additional tests on key operational components.
The Certified Used Truck and Certified Used Trailer inspection results and the emblem provide both the reseller and the customer with an overall view of the health of the vehicle at the time the inspection was completed, according to the travel center operator.
"The maintenance history for a used truck or trailer is typically not available to a prospective buyer. The reseller may have no knowledge of the condition or health of the vehicle. We provide peace of mind to both the reseller and the buyer that an ASE Certified technician has inspected the vehicle," said Skip McGary, executive vice president, Commercial Operations, TravelCenters. "Plus, our technicians have the expertise to perform any repairs necessary to earn and display the Certified Used Truck or Trailer emblem."
More information on the Certified Used Truck or Certified Used Trailer inspection and operational checks is available here.
A division of TravelCenters of America, the TA Truck Service network includes 244 truck service facilities with 1,090 repair bays; nearly 3,000 technicians with certifications in ASE and TIA; a fleet of more than 2,600 RoadSquad and third-party provider service trucks; and more than 143 OnSITE mobile maintenance vehicles. The TA Truck Service Commercial Tire Network is the largest independent commercial tire dealer in the United States.
Westlake-based TravelCenters of America conducts business in 43 states and Canada, principally under the TA and Petro Stopping Centers travel center brands and the Minit Mart convenience store brand.