TravelCenters of America Launches Truck Driving Safety Initiative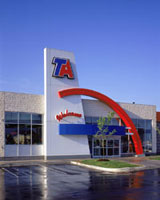 WESTLAKE, Ohio -- TravelCenters of America LLC is looking to help drivers adapt to new safety and inspection standards, commonly referred to as CSA 2010, at all TA Truck Service and Petro:Lube locations.

Every Thursday at 2 p.m. local time, stores will air informational videos detailing the CSA 2010 standards. The 20-minute videos will be followed by an opportunity for drivers to submit feedback. The chain also is offering for sale a comprehensive set of manuals about CSA 2010, produced by J.J. Keller, which outline the new standards and will conduct "training days" for drivers from mid-July through November.

TA & Petro locations now offer a new inspection service specifically designed to focus to areas vital to a good CSA 2010 rating.

"TA is uniquely positioned to offer information and technical services as the industry adapts to CSA 2010 standards, because we operate the largest independent chain of truck maintenance facilities on the interstate," said Ara Bagdasarian, executive vice president of Truck Service for TA. "We have prepared for the new CSA 2010 standards for nearly a year, carefully planning programs in conjunction with individual drivers and many of the most respected fleets in the trucking industry and training all of our staff to provide those programs. Thousands of hours of classroom training and development time were committed to ensure that the right information and services could be brought to our fleet and independent customers alike. No fuel-only truck stop or chain can provide the kind of information and service that our 3,900 truck service personnel provide every day."

TravelCenters of America LLC operates in 41 states and Canada. With convenient locations on interstate exits, TA & Petro offers their customers diesel and gasoline fueling services, full and quick-service restaurants, heavy truck maintenance services, 24-hour convenience stores, electronic communication (Wi-Fi) and other services.

TA Truck Service and Petro:Lube sites offer maintenance services and light truck repair for all heavy duty Class 6-7-8 trucks. Combined they are the largest non-OEM independent truck service chain on the interstate. They offer more than 1,000 service bays, 2600-plus highly trained technicians and more than 400 RoadSquad roadside assistance trucks.