TravelCenters of America's C-store Segment Continues to Grow
Get great content like this right in your inbox.
Subscribe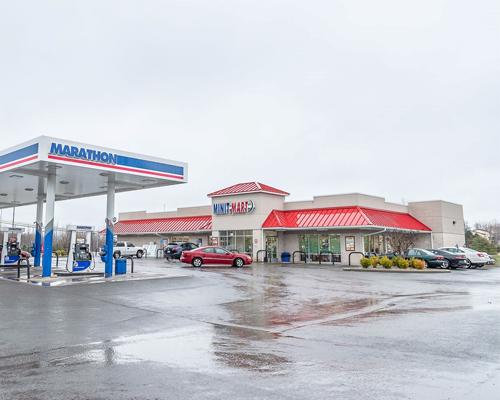 WESTLAKE, Ohio — Already known for its standing in the travel center arena, TravelCenters of America LLC (TA) is making inroads in the convenience store arena.
During the company's third-quarter 2017 earnings call on Nov. 7, Chief Financial Officer Andrew Rebholz reported that the company's c-store segment's site-level gross margin in excess of site-level operating expenses for the quarter was $13.8 million, a 12.3-percent improvement over the third quarter of 2016.
The boost came as a result of a $1.6-million increase in fuel gross margin and a $823,000 increase in non-fuel gross margin. These increases were partially offset by a $885,000 increase in site-level operating expenses, Rebholz explained.
"Our merchandising strategies have been focused on maximizing margin at our convenience stores and deploying popular regional items. And in many cases, branded food strategies to combat some of the competitive pressures faced in a few markets," he said.
Operating cost strategies and several recently completed improvements are also driving the positive site-level operating results, including early in the fourth quarter, according to the executive.
"I think that the continued integration of certain ... branded gasoline loyalty program systems with our own, and the implementation of improved loyalty and mobile app programs for our Minit Mart brand, should have a positive impact going forward," he stated.
"It has taken longer than I anticipated for these locations to stabilize, but I am confident that, for the most part, that will come," Rebholz added.
According to President and CEO Tom O'Brien, TA is navigating what one analyst called a "tough food environment," partially by rebranding lower-volume restaurants with brands that provide variety for the company's existing truck driver customers and "to have more of a draw for local business, to the extent there is local business."
The company has been selective in this process, O'Brien said, explaining that a retailer can get the greatest restaurant brand in the middle of nowhere, but it's not going to really help draw more customers if there aren't a lot of rooftops around. 
The chief executive acknowledges TA is similar to other c-store retailers, except for two differences: a large portion of its business is diesel fuel and its demand will likely be affected by fuel conservation before demand for gasoline; and its truck service business.
"In the past year, we've positioned ourselves to expand that reach. That's where I think the real growth in non-fuel is going," O'Brien said. "It's not that we're ignoring c-stores. It's not that we're not aware that casual dining is perhaps not the fastest growth area in the U.S. economy today — and I say that tongue in cheek.
"We're dealing with those things as needs be, but really positioning ourselves to expand not just the customers, the number of customers and the types of customers, but also to expand the menu of things that we can offer to existing customers," he continued. "In other words, we want to gain new customers with the services that we provide, and we want to address the larger portion of the spend for existing customers because we think there's benefits to both of us."
TA's Q3 C-store Financials 
According to TA's third-quarter results, its convenience segment fuel revenues increased by $10.4 million due to increases in market prices for fuel, partially offset by a decrease in nonfuel revenues, resulting in an increase in total revenues of $10 million, or 5.2 percent, compared to the same quarter last year. Nonfuel revenues decreased primarily as a result of the mix of products and services sold.
On a same-site basis, site-level gross margin in excess of site-level operating expenses increased by $1.5 million, or 12.4 percent, compared to the year-ago period due to increases in fuel and nonfuel gross margin, partially offset by an increase in site-level operating expenses.
On a same-site basis, TA invested $340.7 million (including the cost of improvements) in 180 locations, and these locations generated site-level gross margin in excess of site-level operating expenses of $33.9 million for the 12 months ended Sept. 30 — $5 million more, or 17.2 percent, over the comparable period ended Sept. 30, 2016.
In addition, TA acquired 49 convenience stores during the two-year period ended Sept. 30, 2017, none of which are included in the same-site data for the 12 months reported. 
The company invested $102.6 million (including the cost of improvements) in these acquired convenience store locations, and these locations generated $6.4 million of site-level gross margin in excess of site-level operating expenses during the 12 months reported.
Some of these 49 convenience stores were fully or partially out of service while improvements were being made to them. 
O'Brien said TA "is getting into the tail end" of rebuilding and rebranding the locations.
"What we are dealing with is things that relate to marketing and addressing the competitive set and presenting the consumer with our offer and an offer that is complete," he said.
This includes an integrated loyalty program, both TA's and that of the fuel brand of a particular location, he said. In certain cases, TA is "drawing customers back in some areas where competition has drawn them away. And we think that's possible," according to the CEO.
"It isn't the best set of circumstances to be revamping your offer just as a brand-new site opens not too far away. It makes it easier for the new site to take your customers. But I think that is a situation that we can address and correct. It takes a little while, but ultimately I think it's an opportunity for us," O'Brien added.
Westlake-based TA's business includes travel centers located in 43 U.S. states and in Canada, standalone convenience stores in 11 states, and standalone restaurants in 14 states. TA's travel centers operate under the TravelCenters of America, TA, Petro Stopping Centers and Petro brand names. TA's convenience stores operate principally under the Minit Mart brand name. Its standalone restaurants operate principally under the Quaker Steak & Lube brand name.