TravelCenters Introduces Quaker Steak & Lube Express Walk-Up Concept
Get great content like this right in your inbox.
Subscribe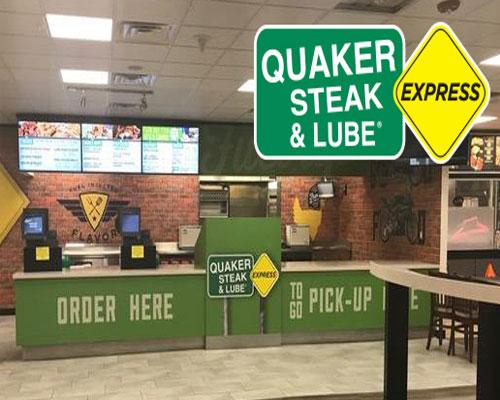 WESTLAKE, Ohio — TA Restaurant Group has opened its first Quaker Steak & Lube Express walk-up concept in Gary, Ind.
Located at 2510 Burr St., the new quick-serve Quaker Steak & Lube counter-service dining concept offers customer favorites, like: jumbo bone-in wings, grilled boneless wings, breaded boneless wings, and fried chicken, all of which can be sauced with any of eight signature sauce choices; steak sandwiches; half-pound steak burgers; salads; wraps, crispy shrimp; mac & cheese; and a variety of side items, such as Lube Fries and Lube Chips.
"We are excited to bring this new walk-up concept of The Lube to professional drivers, motorists and the Gary community," said Bruce Lane, vice president of Quaker Steak & Lube. "We understand that eating great tasting food that is served quickly is a priority for those who are dining on-the-go. Quaker Steak & Lube Express combines quick service with food and flavors guests won't find anyplace else on the highway."
Open from 10 a.m. to 10 p.m. seven days a week, Quaker Steak & Lube Express customers can dine in food-court-style seating that can accommodate more than 110 customers and is surrounded by six wall-mounted TVs to watch sports and games. Guests can purchase bottled sauces, as well as gift cards that can be used at nearly 50 Quaker Steak & Lube locations nationwide.
Additionally, members of TravelCenters' UltraONE Professional Driver Rewards Program can redeem points at Quaker Steak & Lube Express.
Future features to come to Quaker Steak & Lube Express include online ordering for customers who want to pick up and go, and a breakfast menu.
Visitors at TA Gary will also enjoy a number of renovations throughout the travel center, including a remodeled Minit Mart travel store, renovated restrooms, and new signage boasting the TA logo in sleek black and silver letters. Quaker Steak & Lube Express complements the existing Taco Bell and Pizza Hut in the food court at this location, the company stated.
Quaker Steak & Lube is owned, operated and franchised by TravelCenters of America. This is the second Quaker Steak & Lube located in a travel center. The first, a full-service restaurant, opened at the TA travel center in Columbia, S.C., in early 2017.
A division of TravelCenters of America, TA Restaurant Group includes more than 850 quick-service, full-service restaurants and other food outlets, including 10 proprietary restaurant brands including Quaker Steak & Lube, Iron Skillet and Country Pride. The Quaker Steak & Lube brand includes nearly 50 locations in fourteen states across the United States.
Based in Westlake, TA operates in 43 states and Canada under the TA and Petro Stopping Centers travel center brands and the Minit Mart convenience store brand.