Turkey Hill Plumps Up Its C-store Format
MARYSVILLE, Ohio -- Turkey Hill's latest store put on a few pounds — quite strategically.
Kroger Inc.'s convenience store format, Turkey Hill Minit Markets, continued its expansion in September by unveiling a brand-new store format in Marysville, Ohio, now home to the first-ever Turkey Hill Market (minus the Minit).
Like its sister Turkey Hill Minit Markets, the new Turkey Hill Market prototype features motor fuels, cigarettes, beer and snacks, but it also has plumped up offerings of frozen foods, dairy, fresh produce, meats, vegetables and non-perishable, take-home groceries; many of the products bear the name of its supermarket giant parent.
At more than 6,800 square feet, the market is "more than double the size of most traditional c-stores, allowing [Turkey Hill] to carry hundreds of Kroger corporate brand items at everyday low prices," Van Tarver, vice president of Kroger's Convenience Stores and Petroleum Group, told CSNews Online in an exclusive interview. "We have challenged ourselves to move away from the look and feel of a traditional gas station."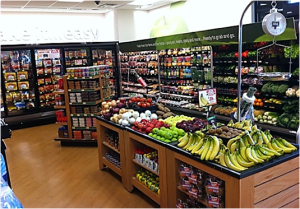 Other highlights and c-store differentiators include a bistro-style, store-prepared, hot food program with build-your-own sandwiches, wraps, bowls, fried chicken and pizza; a dual entrance with automatic doors; push carts; and five checkout positions. The new Turkey Hill Market also features offerings familiar to Turkey Hill Minit Market customers, including fresh-brewed coffee and cappuccino in assorted flavors and blends, fountain drinks, and Turkey Hill-brand ice cream, iced tea and other drinks. Additionally, the store is participating in Kroger's fuel loyalty program with the Kroger Plus card.
"We are able to combine the products customers want, low prices and our best-in-class shopper card loyalty program to deliver more value to Kroger customers and shareholders," Tarver explained.
As for Turkey Hill Market's growth plans, the company is breaking ground on its second location — a new build in Columbus, Ohio. The chain also plans to remodel some existing stores in central Ohio, but no further details have been revealed yet.
"We will continue to evaluate results and make decisions that benefit our customers," said Tarver. "This is an exciting time at Kroger and in the convenience store industry."
For more on the Turkey Hill Market prototype, look in the March issue of Convenience Store News.