Twice Daily's Thrive Program Amps Up Sustainability Efforts
Get great content like this right in your inbox.
Subscribe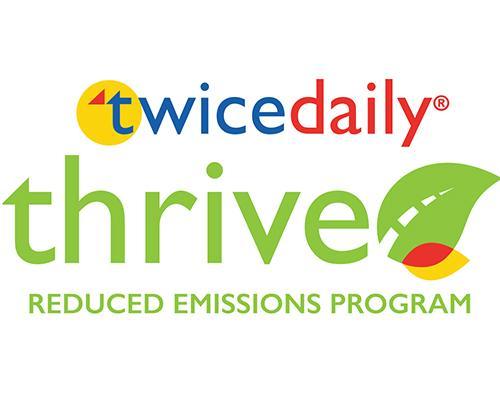 NASHVILLE, Tenn. — Twice Daily convenience stores entered into a two-year partnership with Pilgrimage Music & Cultural Festival in a new sustainability initiative to benefit the Nashville region and concertgoers.
Thrive, Twice Daily's new reduced emissions fuel program, will make all fuel used at this year's Pilgrimage Festival 100-percent carbon neutral, reducing the festival's carbon footprint.
"Launching a sustainability initiative has always been an important aspect of the growing Pilgrimage Festival and working to support the Nashville and surrounding areas," said W. Brandt Wood, producer of Pilgrimage Festival. "We are pleased to partner with Twice Daily who are true innovators in the fuel industry, bringing the first reduced emissions fuel program to this region."   
To celebrate the partnership with the festival, Twice Daily is giving away two general admission weekend passes to Pilgrimage Music & Cultural Festival, which will feature music, art and culture with performances by Jack White, Chris Stapleton, Lionel Richie, Dave Matthews & Tim Reynolds, Brandi Carlile, Counting Crows and more. No purchase is necessary. Customers can click here for more information.
"It is imperative to Twice Daily to continue investing in local sustainability," said Steve Hostetter, CEO of Twice Daily. "Partnering with the Pilgrimage Festival to make this landmark event carbon neutral is one of many ways we'll be using our Thrive reduced emissions program to give back to the communities where our customers and employees live and work."
Twice Daily Thrive — which launched across all retail locations in April — is a program specifically designed to help improve community support and the environment, as Convenience Store News previously reported.
For customers who fill up at any of the Twice Daily c-stores located in Middle Tennessee and the surrounding areas, the Thrive program automatically calculates estimated tailpipe emissions and invests in certified carbon reduction projects. Some of those certified, verified projects include: planting trees, solar power generation, landfill gas capture and more, resulting in up to 30-percent reduced emissions.
Now in its fourth year, Pilgrimage Music & Cultural Festival is a two-day event held at The Park at Harlinsdale Farm in Franklin, Tenn. This year's festival will take place Sept. 22-23.
Nashville-based Tri Star Energy LLC, parent company of Twice Daily, operates 50 c-stores in Tennessee and Kentucky.