Tyson Innovation Lab Launches Its First Brand
Get great content like this right in your inbox.
Subscribe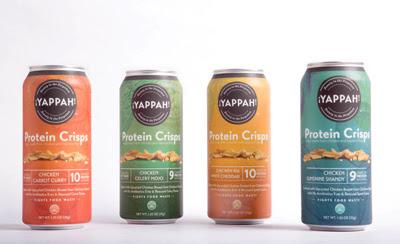 SPRINGDALE, Ark. — Tyson Foods Inc.'s Tyson Innovation Lab launched its first brand, ¡Yappah!, on May 31.
The Tyson Innovation Lab team is responsible for bringing new consumer products to market in just six months. ¡Yappah! is debuting with a campaign on crowdfunding platform Indiegogo and challenges consumers to re-think snacks for good.
The brand name was inspired by "yapa," a tradition in the South American Andes that refers to the little something extra a merchant gives a valued customer so that nothing is wasted.
"The ¡Yappah! brand mission is unique, important and far-reaching," said Rizal Hamdallah, head of Tyson Innovation Lab. "The brand was created to inspire people and partners to rethink their relationship to food and how it impacts society. Through this launch, we intend to address global food challenges such as food waste."
Tyson Innovation Lab partnered with like-minded food companies to tackle the large scale of the food waste problem. Protein Crisps, the first ¡Yappah! brand product, is made using rescued and upcycled vegetables as well as grain-based ingredients that might otherwise be left behind. Tyson Foods provides upcycled chicken breast trim that is full of flavor and protein. It is then combined with either rescued vegetable puree from juicing or rescued Molson Coors spent grain from beer brewing in order to create the line's four flavors:
From Rescued Veggie Puree

:

Chicken Carrot - Curry Flavored

and

Chicken Celery - Mojo Flavored

From Rescued Spent Grain

:

Chicken IPA White Cheddar

and

Chicken - Shandy Beer Flavored
"We could not have developed the Protein Crisps without the enthusiastic collaboration of partners like Molson Coors," Hamdallah said. "We will continue to seek out other great partners, large and small, who have resources and goals that complement our own."
"This collaboration is consistent with our sustainable brewing priorities to address waste," said David Durkee, senior director of research & development and innovation for Molson Coors. "There is great potential to upcycle our spent grains into amazing products and this is a key area of development for our innovation team."
The ¡Yappah! brand is designed to be an umbrella under which future products and product categories that help address major social and sustainability challenges related to food are launched, the company said.
"With the Protein Crisps we are taking 'forgotten' ingredients and crafting them into a delicious protein snack," Hamdallah added. "For the ¡Yappah! brand, sustainability is not an add-on, it's our DNA. Fighting food waste is just the beginning."
Tyson Innovation Lab was challenged to rethink the culinary possibilities for ingredients that are typically left unused during food production, often becoming food waste, in January 2018. The team's framework uses a unique acceleration phase that allows it to create and test a product in a six-month window. The specially-selected team was formed in late 2017 with the goal of driving faster innovation, new growth and increasing speed to market for new products
"Tyson Foods' leadership team understands that to meet the global food challenges of today and tomorrow, the company has to make innovation, agility and outside-the-box thinking central to its DNA," Hamdallah said. "Our mission at Tyson Innovation Lab is to spearhead the creative process and come up with solutions that will make a positive difference in the lives of the next generations. We have a startup mentality—we must be creative and resourceful enough to work speedily. We are employing some innovative methods to reach this high-speed goal."
The ¡Yappah! Protein Crisps launch on Indiegogo will be followed by a 90-day pilot at a Chicago-based supermarket in July.