United Supermarkets Opens First Convenience Store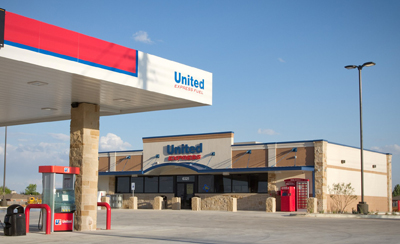 LUBBOCK, Texas -- Texas-based United Supermarkets officially entered the convenience store market today by opening United Express, its first standalone convenience store, in Lubbock, Texas today, the company announced. It marked the occasion with a ribbon-cutting ceremony at the store, which is located on the southeast corner of 4th Street and Milwaukee Avenue.
"We've built a strong and well-respected name in the retail fuel business and are especially proud of our proprietary brand (United Express)," said Tony Crumpton, executive vice presidents of facility, fuel and supply for United Supermarkets, LLC. The opening of the first United Express is the fourth phase of United Supermarkets' growth in the fuel and convenience business since opening its first fuel station in 1997, the company reported. It contains 3,100 square feet of space.
"Northwest Lubbock is truly underserved when it comes to both groceries and fuel, so we as a company are very excited about the opportunity serve our guests from a new location in a new part of town for us," added Crumpton.
Along with the development of United Express, United Supermarkets has also been converting some of its existing fuel stations into small convenience stores with products intended for on-the-go customers, according to the company. Four existing fuel stations have already been expanded under this new concept.
"Our goal with United Express is to take the offerings and products such as prepared foods, which have been most successful in our A Taste of Market Street stores, as well as those on-the-go convenience items, and blend them where guests will see traditional offerings with a unique United flair," stated Chris Bridgford, director of fuel and convenience operations for United Supermarkets.
"If a guest wants to come in and get a bag of chips and a soft drink, they will be able to do that. But if they are looking for a nice tossed salad or some other quality meal solution, those are available as well -- and those are the items you don't typically find in a convenience store," added Bridgford.
The company has more plans for the 4th and Milwaukee site, it said in a released statement. It also intends to open a full-size United Supermarkets store on-site within the next three years.