U.S. Drivers Will Change Habits When Gas Reaches $5.30 a Gallon
PRINCETON, N.J. -- Although fuel prices continue to rise, they haven't increased to a tipping point just yet. A new Gallup poll conducted March 5-6 shows that the price of one gallon of gasoline would have to reach $5.30 to $5.35 before the average American driver would make major changes to their routine.
Two separate random split samples of approximately 500 respondents each stated the price at which they would be "forced to make significant changes" or "forced to make significant cutbacks" in other spending areas. There were no significant differences in responses based on the wording of the question.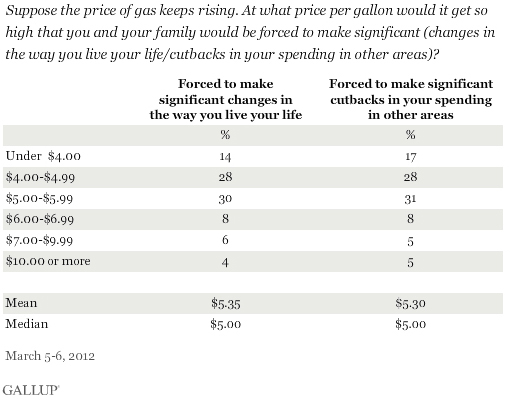 While nearly 30 percent of respondents would cut back once fuel prices are in the $4.00-$4.99 range, the average response of $5.30-$5.35 shows that there is still a relatively large amount of room for prices to increase before Americans face serious consequences and lifestyle changes, said Gallup.
Still, Americans are definitely feeling the crunch to their wallets : 85 percent of respondents said they want President Obama and Congress to "take immediate actions to try to control the rising price of gas." However, only 65 percent believe such control is possible, while 31 percent said they believe fuel prices are largely beyond Washington's control. Republicans are slightly more likely than Democrats to believe the President and Congress can make a difference.
The poll was conducted through telephone interviews with adults in all 50 states and Washington, D.C. and has a maximum margin of sampling error of plus or minus five percentage points, according to Gallup.