U.S. Motorists Surpass 5 Billion Miles Driven on E15
Get great content like this right in your inbox.
Subscribe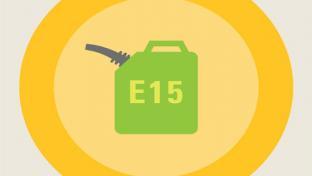 WASHINGTON, D.C. — American drivers have clocked 5 billion miles on E15, the alternative fuel gaining in popularity that features gasoline blended with 15 percent ethanol.
E15 hit the 5 billion-mile mark in the midst of Reid Vapor Pressure (RVP) restrictions on the sale of E15 fuel across most of the country, reported Growth Energy, a trade association working to advance pro-biofuel policies and expand consumer access to higher blends of ethanol.
Per the RVP restrictions, over the summer months, consumers only have access to E15 in Reformulated Gasoline (RFG) markets, or if they're fueling up a flex-fuel vehicle.
"When we give consumers a better option at the pump, they choose E15 again and again," said Growth Energy CEO Emily Skor. "That's why Americans have surpassed more than 5 billion miles on E15, which provides unrivaled value for their engines, the environment, and their wallets."
Growth Energy is working closely with nonprofit organization Prime the Pump to increase the number of U.S. fueling stations offering E15. The number of E15 stations has doubled four years in a row, currently standing at 1,400 across 30 states. Furthermore, Growth Energy and Prime the Pump have secured commitments for more than 2,800 retail sites that will offer E15 by 2021.
Increasing the number of stations in turn bumps up the number of consumers fueling up with the fuel and, ultimately, the number of miles driven on it. 
"To keep this incredible momentum, a year-round RVP fix is crucial," said Skor. "E15 retailers face prohibitive costs each year just to relabel every pump around RVP season, while consumers lose options at the pump when gas prices are highest, and our rural economy suffers."
Based in Washington, D.C., Growth Energy represents producers and supporters of ethanol.