VERC Employee to Take the Mound at Red Sox Game
DUXBURY, Mass. -- A longtime employee of VERC Enterprises is warming up in the bullpen. John Burgess has been selected to throw out the first pitch at the Boston Red Sox game at Fenway Park on Sept. 15.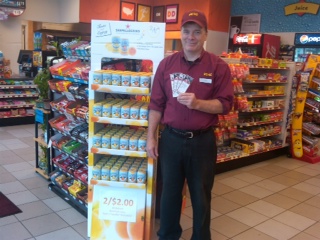 John Burgess
Burgess works at the VERC Pembroke Mobil location stocking the shelves and cooler, and providing general maintenance. Nestle Water is honoring Burgess, one of 40 disabled/challenged employees at VERC, with the chance to take the mound based on his 19 years of service to VERC and his love for his hometown baseball team.
Burgess will get an up-close chance to see his favorite player David Ortiz from a seat of honor. Joining him at the game will be his girlfriend, his father and Richard Cleary, manager of the VERC Pembroke Mobil store.
"We're absolutely thrilled that John will have a chance to throw the first pitch at what should be a great game," said Leo Vercollone, president of VERC Enterprises. "John is a valued employee who always comes to work with a smile on his face -- I have a feeling that smile will be bigger than ever following [the Sept. 15] Red Sox game."
VERC Enterprises is well known for reaching out the disabled community. Earlier this summer the c-store operators -- with locations in Eastern Massachusetts and New Hampshire -- hit its goal of having 20 percent of its workforce made up of disabled and/or challenged individuals, as CSNews Online previously reported.