Village Pantry Stocks Skinny Water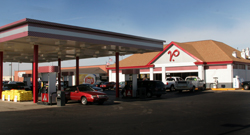 BALA CYNWYD, Pa. -- Village Pantry, which sells Marathon-branded fuels and operates 190 convenience stores in Indiana, Ohio and Michigan, added Skinny Water from Skinny Nutritional Corp. to its beverage lineup, the vendor reported.

Under this distribution and promotional relationship, four flavors of Skinny Water will be available at approximately 135 stores in the Indianapolis market, and to launch the product, Skinny Nutritional Corp. and Village Pantry stores held a "Zero Dollars Gas Giveaway" Sept. 1, 2010.

Skinny Nutritional Corp. hosted the launch event at the Village Pantry location at 8772 East 96th Street, Fishers, Ind., from 11 a.m. to 2 p.m., and Village Pantry and Skinny Nutritional gave away free gasoline and free bottles of Skinny Water to all drivers from 12 p.m. to 1 p.m.

Skinny Nutritional Corp. ceremoniously changed the station's fuel price signage, which was close to $3 a gallon, to $0.00 for regular grade of gas for the introductory launch event of the Zero-Calorie, Zero Sugar, Zero Sodium, Zero Guilt Skinny Water, the company reported.

The Skinny Water lineup features nine flavors, including Acai Grape Blueberry (Hi-Energy), Raspberry Pomegranate (Crave Control), Lemonade Passionfruit (Total-V), Peach Mango Mandarin (XXX-Antioxidant), Orange Cranberry Tangerine (Wake Up) and part of its 'Sport' line: Blue Raspberry (Fit), Pink Berry Citrus (Lean), Goji Black Cherry (Shape) and Kiwi Lime (Active). Every bottle of Skinny Water has electrolytes, antioxidants and vitamins, and has zero calories, sugar and sodium, and no preservatives, with all natural colors and flavors.