Walgreens Debuts Urban Concept Store in Chicago's Loop
Get great content like this right in your inbox.
Subscribe
CHICAGO -- "This is not your mom's and dad's drug store." With those words, Chicago Mayor Rahm Emanuel joined Illinois Gov. Pat Quinn and Joe Magnacca, Walgreens president of daily living products and solutions, in welcoming guests to the grand opening celebration of the company's new flagship store at State and Randolph Streets in Chicago's Loop yesterday. The event marked Walgreens' return to the corner where it operated a store from 1926 to 2005.
The two-story, state-of-the-art space -- which opened to the public at 6:30 a.m. this morning -- isn't your mom's and dad's convenience store, either, but it does compete aggressively in several convenience store product categories.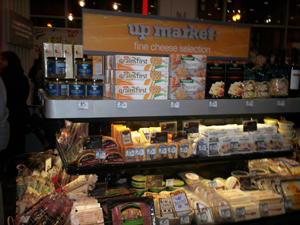 Instead of pre-made pots of coffee, hot dogs and pizza slices merchandised beside bags of chips, candy bars and tobacco products, the new Walgreens features its Upmarket Café just inside the entrance. Here customers will find barista-prepared, fresh-brewed premium coffee (including the exclusive State and Randolph brand); fresh-baked breads and pastries; and a juice bar featuring fresh fruits, vegetables, made-to-order smoothies and self-serve frozen yogurt. Hand-rolled sushi and sashimi prepared fresh daily; hundreds of fresh food items including produce, on-the-go meal options including freshly prepared wraps, sandwiches and salads; and a Coca-Cola Freestyle machine that dispenses 130 varieties of Coca Cola fountain drinks join the food and beverage lineup that also includes more than 700 fine wines, liquors, artisan cheeses, specialty meats and chocolates.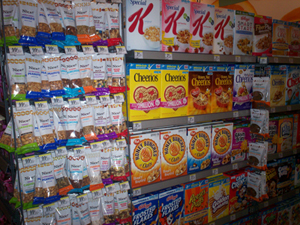 More convenience product innovations include: the debut of Walgreens Good & Delish brand of healthy snacks and beverages including Dark Chocolate Blueberry Pomegranate Trail Mix Crunch, Maple Leaf Crème Cookies, Premium Pistachios and Naturally Balanced Artesian Water. Good & Delish products are trans fat-free, gluten-free, reduced-calorie or made with natural ingredients, said Walgreens. The company also introduced its Nice! brand of more than 400 grocery and household products including coffee, cookies, soups, sauces and detergents priced up to 30 percent below national brands.
By purveying myriad fresh foods, including fruits and vegetables, Walgreens is taking a big step toward eliminating the "food deserts" so common in urban areas, Mayor Emanuel said.
The expanded selection of fresh food and convenience items is not the only thing that distinguishes Walgreens' new flagship store. The second floor is home to an enhanced, state-of-the-art pharmacy designed to encourage greater interaction between pharmacists and patients. A Take Care Clinic offers vaccinations, health tests, physicals and treatments for common illnesses and minor injuries. And the LOOK Boutique beauty department features cosmetic, skincare and hair care brands not typically found in drugstores, beauty advisors, a Nail Bar, Eyebrow Bar and Virtual Makeover kiosk.
"Where else can you get your nails done, grab some sushi and get a flu shot?" Magnacca asked. "This unique urban retailing concept raises the bar for drugstore retailing and sets us apart in our industry. As we transform from a traditional drugstore to a retail health and daily living destination, this store demonstrates how we are a central part of life for many who live and work in this dynamic and thriving community. We look forward to serving them with this new shopping and wellness experience for years to come."
"This store brings together our most innovative, forward-thinking initiatives under one stunning roof, and we couldn't be more proud to make its debut in our hometown," Walgreens President and CEO Greg Wasson said in a statement prior to the grand opening celebration. "Just as we did with our store here in the 1920s, we're again offering the ultimate in service, convenience, assortment and community pharmacy. Customers will be delighted by a drugstore unlike anything they've ever experienced."
Walgreens' State Street store is open from 6:30 a.m. until midnight Monday through Friday, 8 a.m. until midnight on Saturday and 8 a.m. until 10 p.m. on Sunday.
As CSNews reported in July, Walgreens' Duane Reade subsidiary opened a similar concept store steps from the New York Stock Exchange at 40 Wall Street in Manhattan.